LeBron James Won't Get Suspended Despite Violating NBA's COVID Protocol by Partying With Drake
The Los Angeles Lakers star's violation comes after he attended a photo shoot for Lobos 1707 tequila, a brand that he is an investor in, along with the Canadian singer/rapper as well as actor Michael B. Jordan.
AceShowbiz –LeBron James will continue to play in the first round of the NBA playoffs. Despite violating the league's COVID health and safety protocols by partying with Drake, the Los Angeles Lakers star reportedly will not get suspended.
Confirming the news was ESPN's Adrian Wojnarowski via Twitter. "LeBron James won't be suspended for protocols violation, sources tell ESPN. Nature of event didn't rise to a threat level of virus spread, as described in @McTen's story below. Suns-Lakers Game 1 on Sunday," so read the tweet.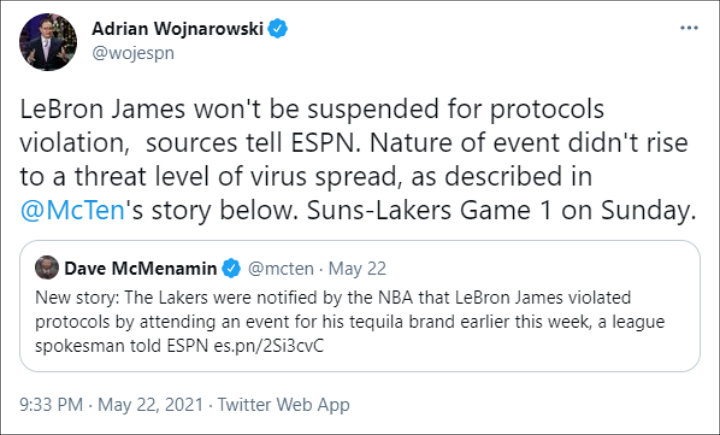 Adrian Wojnarowski stated LeBron James won't get suspended despite violating NBA's COVID protocols.
Reacting to the league's decision was Charles Barkley. "The NBA ain't got the b***s to suspend Lebron James. Zero," he said during a virtual interview with Yahoo Sports. "The NBA, they ain't got no chance of suspending Lebron James. If it was a nobody, they would put him in health and safety protocols."
"Ain't no f**king way LeBron James is going to be sitting out because of health and safety protocols," the former professional basketball player continued. "When I read that, I just started laughing. LeBron James is playing Sunday. Guaranteed."
The night before the Los Angeles Lakers' play-in game against the Golden State Warriors on Wednesday, May 19, LeBron was unveiled to have partied with Drake and Michael B. Jordan at an outdoor photo shoot to promote his Lobos 1707 tequila. Although attendees had to show proof of vaccination or a negative COVID-19 test to participate, the NBA made it clear that the event still violated its rules.
A league spokesman told ESPN on Friday, "It's a violation of the agreed upon protocols." The spokesperson added, "As we have in other comparable instances around the league, it has been addressed with the team."
This came just a day after LeBron refused to reveal whether he plans to receive the COVID-19 vaccine. "Anything I do off the floor is predicated to my family for the majority or 99.9 percent of that," he pointed out.
"It's about the health and safety of my family. That's what it came down to," the 36-year-old further noted. "Being available to my teammates on the floor is about taking care of my body and me doing everything I can to make sure I'm available both mentally, physically and spiritually as well. But anything of that nature is all family talk."
Source: Read Full Article