Nicki Minaj & Kenneth Petty targeted & harassed his rape victim for years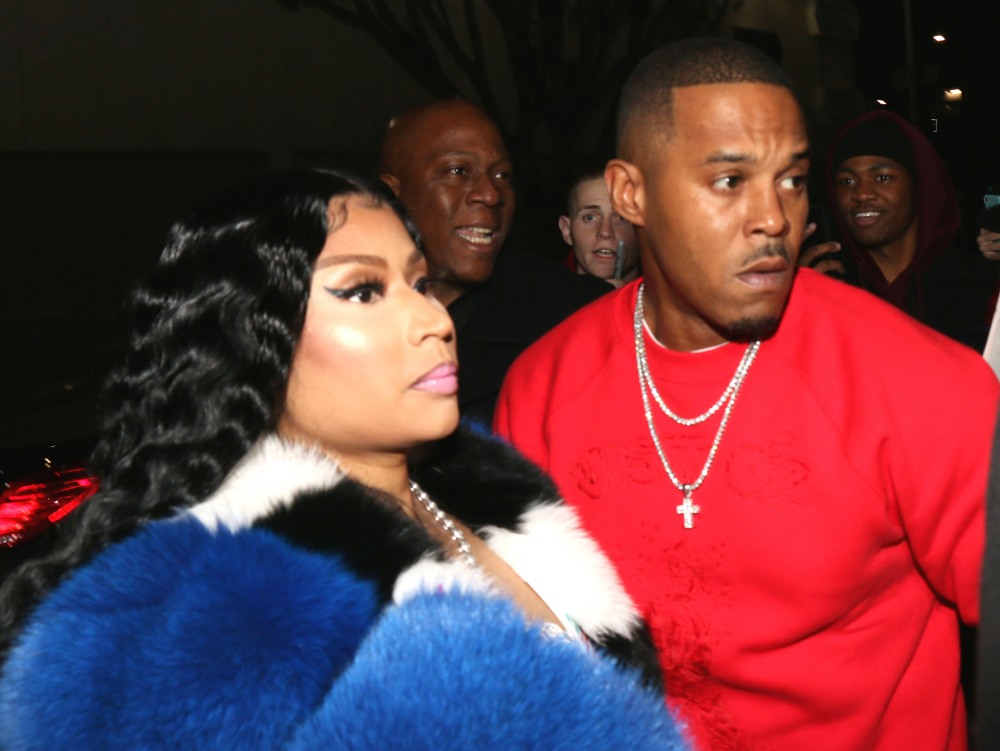 Last week, Jennifer Hough filed a lawsuit against Nicki Minaj and Nicki's husband Kenneth Petty. The lawsuit was for intimidation and harassment. Hough is Petty's victim – Petty raped Jennifer Hough at knifepoint when she was only 15 years old, back in 1995. Petty later took a plea deal and served several years in jail for the crime. After filing her lawsuit, she spoke to the Daily Beast about what Petty did to her in 1995, and how Minaj and Petty have been making her life a living hell for several years, ever since Minaj weaponized her fans against Hough. Some key points from this Daily Beast article:
How Hough feels: "I was never a fan of bullies. I taught my kids, you don't be a bully and you don't stand around and watch somebody be a bully. And I guess that's how I feel in this situation. I've been feeling completely bullied—but bullied by the world, almost. Only because of a statement that was made by someone who just happens to do music. You know? Someone who happens to be famous."

The time Hough spoke to Minaj: During their single phone conversation, Hough alleges that Minaj said she'd heard she was willing to "help out" in Petty's legal predicament and offered to fly her to Los Angeles, or to send her publicist to meet with Hough where she lived in Atlanta and draft a statement recanting. Hough says she declined both offers, but claims she told Minaj one thing before the rapper hung up: "Listen. I just need you to know, woman to woman, this really happened."

Minaj & Petty's associates harassed Hough's daughter: Hough avoided speaking publicly about her assault for years, apart from one YouTube interview in 2018 to clarify that she and Petty were never in a relationship, despite a claim Minaj had made to the contrary. But when a stranger found her daughter in a dance club and began asking about Petty, that strategy no longer seemed viable. She left the state in the hopes that her daughter could escape the nightmare that's haunted her for decades—and a month later, she posted a video exposing the harassment she'd faced for months. Hough's attorney, Tyrone Blackburn, told The Daily Beast in a statement, "The Pettys left Ms. Hough with no choice other than to fight back after their associate accosted her 22-year-old daughter."

Minaj kept speaking about Hough: A year later, Minaj spoke about Hough again—this time on her Apple Music show Queen Radio, where she claimed that Hough had "wrongly accused" Petty. Minaj claimed Hough had written a letter recanting her statement but never filed it for fear of being jailed. "But white is right," Minaj said. Hough maintains she never wrote such a letter. Because of Minaj's statements, Hough's complaint states, fans on social media began obsessively searching for her identity to confirm who she was, whether she was white, and where she lived.
[From The Daily Beast]
I believe Jennifer Hough. I believe Nicki Minaj and Kenneth Petty targeted her in the past four years, and they sent "associates" to threaten, harass and try to bribe Hough and her family. Hough also said that she's had to move several times because Minaj "fans" keep finding her address and posting videos about how they're going to kill her.
This TMZ story came out in the same newscycle – apparently, Kenneth Petty wants his name removed from the Sex Offender Registry list.
Nicki Minaj's husband, Kenneth Petty, says having his name on New York's Sex Offender Registry has caused him a lot of problems, and the worst part is he never got his day in court to challenge it … according to new legal docs. Petty's suing the State of New York and its Criminal Justice Services division to have his name removed from the sex offender's registry, because he claims he never got notice of a hearing about it back in October 2004 while he was incarcerated.

According to the legal docs, obtained by TMZ … the hearing offered an opportunity to challenge the risk level assigned to him — he was categorized as a level 2 sex offender at the time — but problem is, Petty claims he never actually got notice of it. Petty claims the notice of the hearing was sent to an address where he didn't live — because he was in prison at the time — and alleges the "Kenny Petty" signature on the bottom is a forgery.

Petty claims whoever did it also answered that he would not be attending the hearing. So, according to the new suit, Petty claims he never got his constitutional right to due process to challenge the risk level assigned to him. Because of this, Petty claims he's suffered humiliation and financial loss — as well as being arrested last year for failing to register as a sex offender — and he now wants his name removed from NY's sex offenders list.
[From TMZ]
This has been Minaj and Petty's focus from the beginning, to somehow get Petty off of the Megan's Law sex-offender list. This was why Minaj waged a campaign of harassment against Hough, to get Hough to recant and to use that to get Petty off the list. It's not like Petty just filed the wrong paperwork – the man took a plea deal (the same as a conviction) for sexual assault. He deserves to be on the sex-offender list.
Photos courtesy of Avalon Red, Backgrid.
Source: Read Full Article