Olivia Culpos Sister Calls Out American Airlines for Forcing the Model to Cover Up Before Flight
Being a good sport, the former Miss Universe puts on her boyfriend Christian McCaffrey's gray hoodie over her original, more revealing outfit before boarding a plane.
AceShowbiz –Olivia Culpo can count on her sister to always have her back. The former Miss Universe was recently told to cover up otherwise she couldn't board an American Airlines flight and Aurora Culpo wasn't having it.
Taking to her Instagram Stories, the older sister of Olivia filmed the model in her original outfit, which consisted of a long black cardigan over sports bra and biker shorts, at the airport as they were ready to jet off to Cabo San Lucas. "Olivia and I are going to Cabo and look at her outfit," Aurora said in the video.
"She looks cute. She looks appropriate," Aurora defended her sibling, before revealing that someone from the airline gave the actress an ultimatum. "No. They call her up to the desk and tell her that she needs to put a blouse on otherwise she can't get on the plane. Tell me is that not so f**ked up, American Airlines," she continued saying.
Aurora later shared a video of another passenger who wore a similar outfit to Olivia's. The female passenger was surprised she wasn't being called out too since her "titties" were also "out." The woman said, "That's weird." When reposting the video on her own Story, Olivia was thankful for the lady's support, writing, "New best friend had my back."
Being a good sport, Olivia agreed to cover up. She put on her boyfriend Christian McCaffrey's gray hoodie over her original outfit. Aurora later shared a photo of the football player putting her hands inside his white T-shirt as he appeared to be freezing once they were on the plane. "When you freeze b cur lady dress inappropriate AF. Exactly how Jack from the Titanic died," Aurora joked.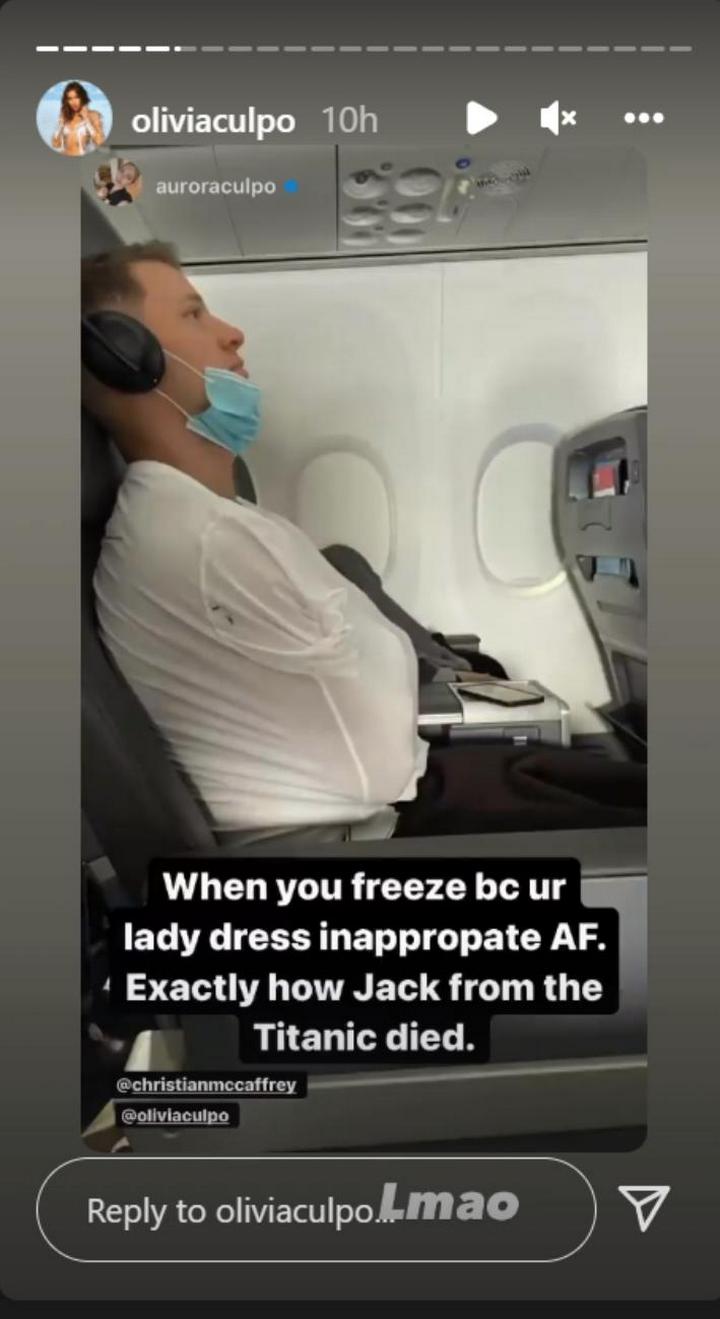 Olivia Culpo reposted her sister Aurora Culpo's Instagram Story.
Olivia also shared Aurora's video of the whole ordeal on her Story. "Oh no I'm confused lol. Is this inappropriate/offensive?" she asked about her outfit, before adding, "Leave it to aurora to cause a scene. Hide me."
The model shared a pic from her trip to Cabo with her boyfriend Christian McCaffrey and sister Aurora.
Giving an update from her trip, Olivia later posted a picture of the three inside a car. "Third wheeling adventure continues," she captioned it, noting that she has returned her boyfriend's hoodie to him. "I'm dressed back in my risque athleisure outfit and gave Christian back his clothes lol."
Source: Read Full Article