Robin Williams' Wife Susan Reveals How They Spent Their Time Together After His Diagnosis of Lewy Body Disease
Robin Williams died in 2014, shocking the world and saddening millions of fans who had grown up with his movies and TV shows. In the wake of Williams' tragic suicide, people searched for answers, anxious to find out what had happened to the man who meant so much to so many.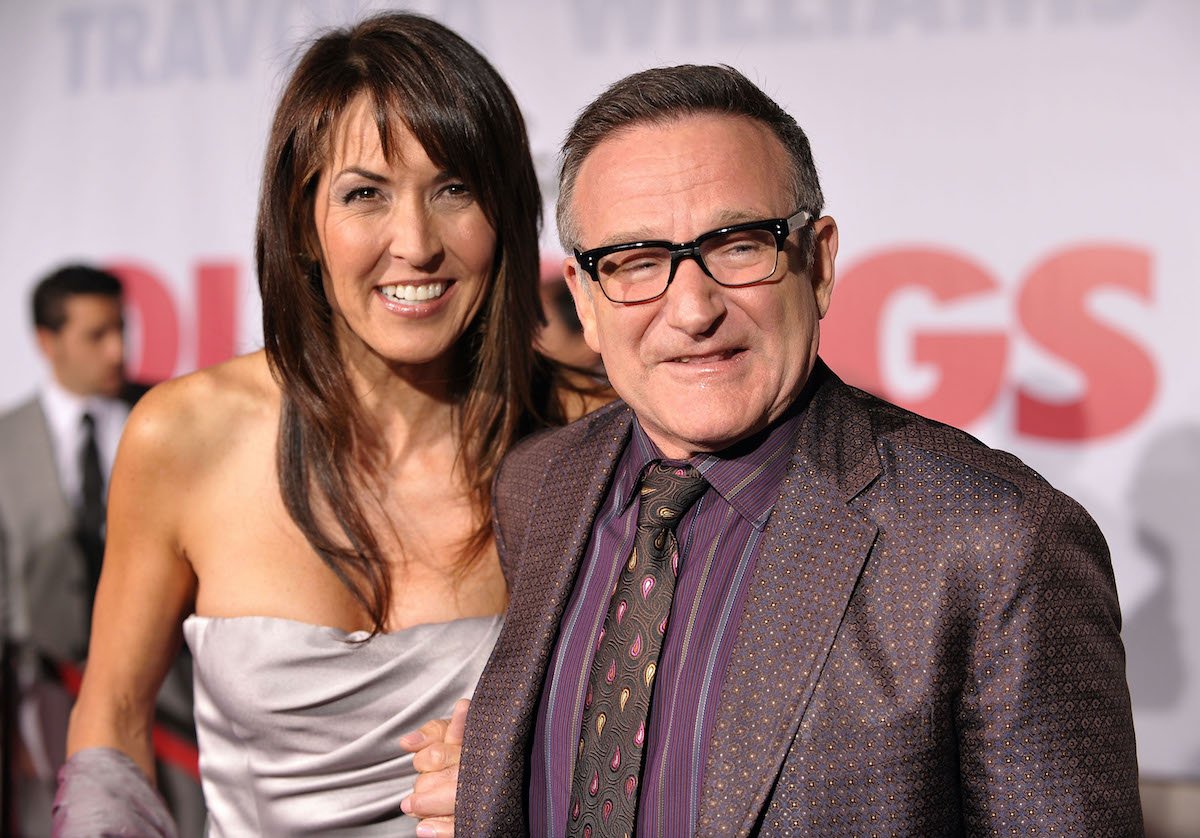 Over the years, members of Williams' family have opened up about what the beloved comic was dealing with behind the scenes, and in a 2016 report, Williams' wife, Susan Williams, opened up about the medical condition that changed his life and how the two spent their days together after he was diagnosed with Lewy body disease.
When did Robin Williams and his wife get married?
Robin Williams rose to fame in the '80s, and thanks to his brilliant improvisational skills, he quickly became one of the biggest comedians in the business. Not only was Williams known for his stand-up ability, but he had an uncanny gift as an actor, appearing in iconic movies like Dead Poets Society, Patch Adams, Mrs. Doubtfire, Jumanji, and The Birdcage.
By the time Williams met Susan Schneider Williams in 2007, he had already been married twice and had three children. However, the two hit it off quickly, as Susan Williams, who is an experienced artist with two sons of her own, later revealed. In a 2021 interview with the Guardian, Williams opened up about the way that she first met her husband.
"I walked in and saw this man and I thought, 'I think that's Robin Williams,'" Williams said, according to Women Working. "Then on my way out I happened to look at him again and he was smiling at me and something inside me said, 'Oh, just go over and say hi.'"
Susan Williams opened up about her last days with Robin Williams
The two were married in 2011, after four years of dating. Although their marriage was happy, Susan Williams' world was rocked when her husband started struggling with traumatic health issues. The comedian was found dead in August 2014, with the coroner reporting that Williams had died by suicide. While the world mourned, Susan Williams was hard at work trying to dispel misconceptions about her husband's tragic passing.
In a 2016 report from the American Academy of Neurology, Williams opened up about the issues Robin Williams was having before his death – and the devastating effects that Lewy body disease had on the star. Williams wrote:
"Not only did I lose my husband to LBD, I lost my best friend … when LBD began sending a firestorm of symptoms our way, this foundation of friendship and love was our armor."
Williams described how her husband started struggling with issues such as insomnia, anxiety, memory loss, and paranoia. "Throughout all of this, Robin was clean and sober," Williams wrote.
"And somehow, we sprinkled those summer months with happiness, joy, and the simple things we loved: meals and birthday celebrations with family and friends, meditating together, massages, and movies, but mostly just holding each other's hand."
Susan Williams is now dedicated to finding a cure for Lewy body disease
In Williams' essay for the American Academy of Neurology, she discussed the very last day that she spent with Robin Williams: "We did all the things we love on Saturday day and into the evening, it was perfect—like one long date. By the end of Sunday, I was feeling that he was getting better." The widow recalled, "When we retired for sleep, in our customary way, my husband said to me, "Goodnight, my love," and waited for my familiar reply: "Goodnight, my love." The next day, Williams was gone.
In the years since his passing, Susan Williams has worked to raise awareness for Lewy body disease. Recently, she collaborated on a documentary called Robin's Wish, which details Robin Williams' struggle with LBD. She also serves on the Board of Directors at the American Brain Foundation, working hard to find cures for degenerative brain conditions. For fans, the tragedy of Robin William's death will always be a sore spot – but perhaps with time, a cure will be possible.
How to get help: In the U.S., call the National Suicide Prevention Lifeline at 1-800-273-8255. Or text HOME to 741-741 to speak with a trained crisis counselor at the free Crisis Text Line.
Source: Read Full Article