Times The Trump Children Were Caught In A Lie
Donald Trump's complicated relationship with the truth is well-documented, spanning back to his days as an aspiring property developer in Manhattan. The Washington Post estimated that he told a whopping 30,573 lies during his four years as President of the United States alone. 45's penchant for skewering the truth or spreading downright falsehoods even resulted in him earning a permanent suspension from Twitter.
It also appears that telling tall tales and fabricating facts may be a trait that runs in the Trump genes. Sons Donald Jr. and Eric, along with daughter Ivanka, all work for the family business. Even though she's yet to sign on the dotted line, according to CTV (via CNN), Donald Trump's youngest daughter, Tiffany, was also expected to join the payroll at some point back in 2017. So, it's perhaps little surprise that all four siblings toe the Trump party line. BBC News, for example claimed that Donald Jr. is even "Trumpier than Trump" in 2020 — and it seems this could be the case when it comes to playing fast and loose with the truth, as fact-checkers have noted whenever he's boasted and made exaggerated claims to further his father's agenda. 
But Don Jr.'s far from the only culprit, as all four elder Trump kids have endeavored to back up and bolster their father's own apparent fibs and misleading manifesto whenever possible. We're breaking down all of the times the Trump children were caught in a lie.
Eric Trump boasted that his father was the most 'beloved' president ever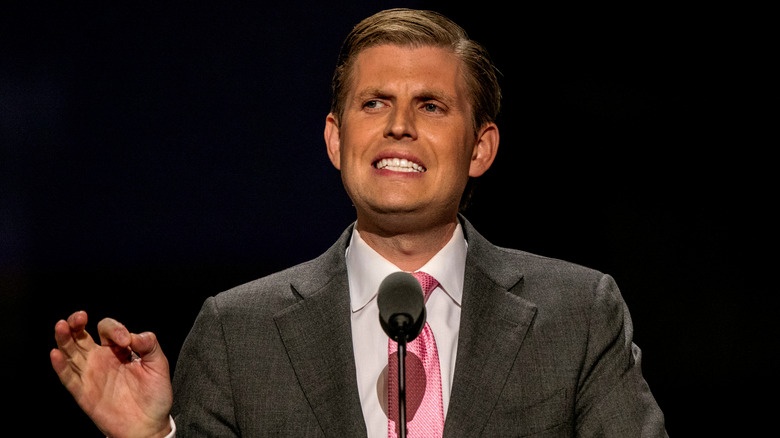 One thing everybody can probably agree on is that Donald Trump was the most divisive president in recent history. The U.S. was totally divided between Trump supporters and detractors, with little to no middle ground, throughout his term. "The Apprentice" alum himself made it clear that you were either with him or against him, and those who questioned his policies or rhetoric were swiftly and publicly deemed an enemy — not only of Trump's, but often the entire country.
According to Eric Trump, though, no other U.S. politician has ever been as "beloved" as his father. Trump's middle son made this claim during an interview on Sean Hannity's Fox News show (via The Wrap). "There's never been a more beloved political figure in our country's history," Eric boasted in 2021. "There's 75 million Americans who would follow him to the end of earth. I mean, they love the man; they love what he stands for."
However, the facts tell an entirely different story. A Gallup poll revealed that Trump had a measly 34% approval rating when he left office on January 20, 2021. In contrast, his predecessor, Barack Obama, finished his eight-year term on 59%. Also, throughout his four years, Trump's average approval rating was the lowest of any president's since polling began — 75 years ago, when Harry S. Truman was in power. Finally, The Bookings Institute reported, "In addition to coming in last in the overall greatness rating, President Trump was ranked by our surveyed experts as the most polarizing of all presidents."
Donald Trump Jr. claimed his father's policies were 'like rocket fuel' to the economy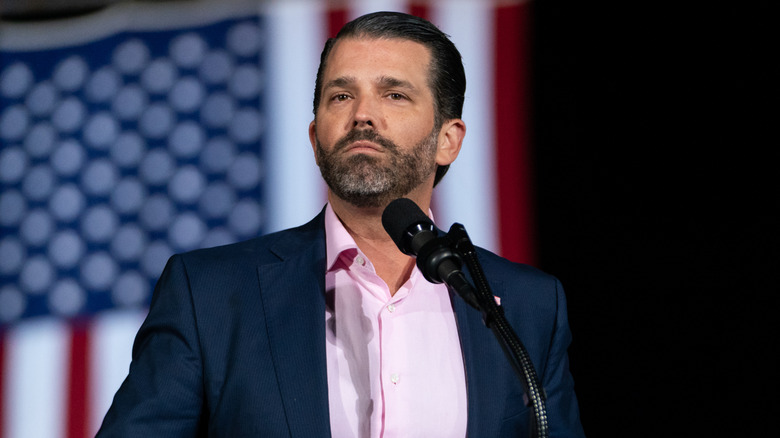 When Barack Obama became president, he inherited the worst economic crisis since the Great Depression. However, as per Forbes, things quickly improved, thanks to the American Recovery Act. Obama signed the bill into law in February 2009, and by July, the economy was improving. According to Factcheck.org, when Donald Trump took office, stocks had hit a historical high second only to the Bill Clinton era, property values had increased 20%, 11.6 million jobs had been added, and 15 million more citizens had health insurance.
However, Donald Trump Jr. credits his father for it all. During his 2020 RNC speech, the oldest Trump sibling made a series of claims, alleging that before COVID-19's arrival "courtesy of the Chinese Communist Party," the U.S. was "seeing the American Dream become a reality for more of our citizens than ever before." He went on to boast, "After eight years of Obama and Biden's slow growth, Trump's policies have been like rocket fuel to the economy."
Not so fast, though, Junior. As per The Washington Post, average earnings rose by 3%, and "consumer and business confidence" increased under Trump. But there were indications of another financial crisis looming on the horizon. According to The Post, "Manufacturing output and jobs stalled in 2019, an early warning sign of economic trouble." Also, the first three years of Trump's presidency saw 2.5% economic growth — just 0.2% higher than during Obama's second term.
Ivanka Trump was caught bigging-up POTUS' efforts to combat human trafficking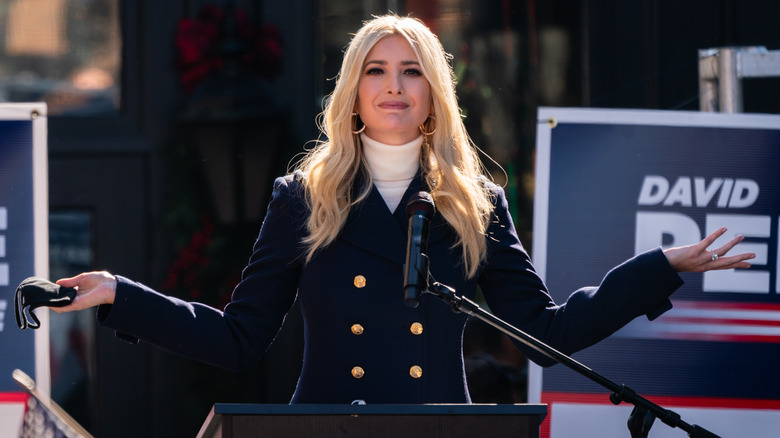 Back in 2016, the totally debunked Pizzagate conspiracy sprang up on 4Chan. According to Time magazine, it involved a slew of wild claims, including allegations that Hilary Clinton ran a child sex-trafficking ring from a pizza parlor's (totally non-existent) basement. A number of politicians and celebrities were falsely accused of pedophilia and child sex-trafficking — and they all had one thing in common: They were vocally anti-Trump. Human trafficking had become a partisan issue — of sorts — thanks to MAGA supporters and QAnon. When he took office, Donald Trump made it one of his administration's mainstays.
Daughter Ivanka Trump publicly led the battle. Per CNN, she called human trafficking an "ugly stain on civilization" in 2017. In her speech at the 2020 RNC convention, Ivanka boasted about her father's role in combatting the atrocity. "​​I want to tell you the story of a president who is fighting for you from dawn to midnight," she said, later claiming, "… I've worked alongside the president as he signed into law nine pieces of legislation to combat the evil of human trafficking."
However, it turns out that Ivanka was massaging the figures. As showcased on the website for Congress, Donald Trump "issued two executive orders targeting human trafficking" in addition to "three proclamations observing" the criminal enterprise, per USA Today. The outlet further noted that Ivanka's claim "mistakes nine pieces of anti-human trafficking legislation for executive orders signed by Trump to combat child trafficking."
Tiffany Trump praised her dad's support of the LGBTQ+ community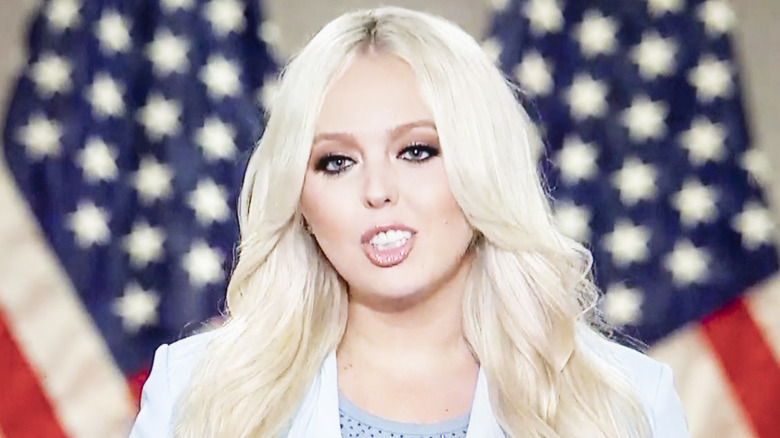 Over the decades, the LGBTQ+ community has fought tirelessly for equal rights and protection under the law. It's been an emotional rollercoaster, with giant leaps forward interspersed with heartbreaking steps backward. However, it appeared the U.S. was finally making real progress during Barack Obama's time in office. According to BBC News, in 2015, same-sex marriage was legalized in all 50 states. Then in 2016, a series of school measures were introduced "to protect transgender students from harassment, accommodate their preferred names and pronouns, and give them access to the locker rooms and bathrooms of their choice" (via NPR). But, the right vowed to fight back, and they chose Donald Trump to lead their battle.
For many in the LGBTQ+ community, Trump's presidential victory was considered their worst nightmare. However, they had nothing to fear — according to his youngest daughter. According to Mercury News, Tiffany Trump took to the stage during a "Trump Pride" event in 2020. "It saddens me. I have friends of mine who reach out, 'How do you support your father? We know you! We know your best friends are gay!'" she said, before going on to insist, "My father has always supported all of you."
Donald Trump's record would prove otherwise, though. By 2019, ProPublica listed 31 cases of his administration's destruction of "LGBTQ rights and protections," including dismantling "federal protections and resources," banning transgender people from enlisting in the military, abolishing workplace protection rights, and refusing to investigate trans students' bathroom ban complaints. GLAAD's Accountability Project has since provided an even more expansive list.
Eric Trump retweeted a 'fake' video to support phony election fraud claims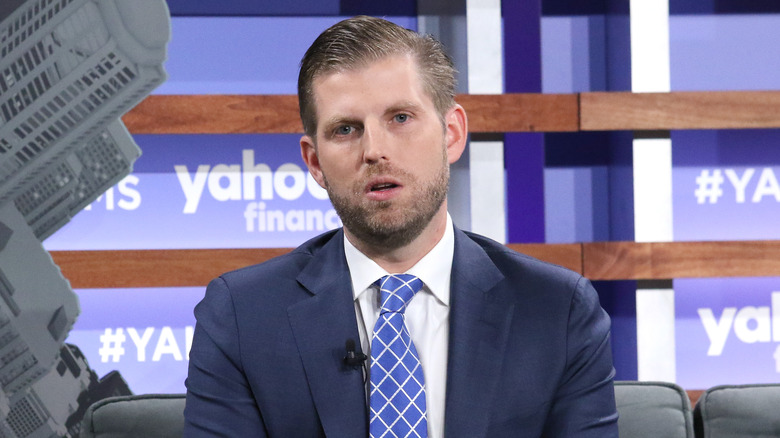 On November 7, 2020, Joe Biden was declared winner of the presidential race. As per The New York Times, the newly-elected POTUS announced, "Let this grim era of demonization in America begin to end here and now." Sadly though, it was far from being the beginning of the end. Biden won the popular vote by over 4% and nabbed 306 electoral college votes (via the Pew Research Center), but the incumbent president wasn't conceding victory. According to NPR, Donald Trump had already falsely claimed he'd won, even before all of the votes had been tallied — via a tweet — in ALL CAPS, no less. He continued with baseless allegations of election fraud, before tweeting, "BAD THINGS HAPPENED WHICH OUR OBSERVERS WERE NOT ALLOWED TO SEE."
His two oldest sons also bombarded social media with phony accusations of election rigging. HuffPost reports that Eric Trump, for example, was "busted" on November 4 for posting "a fake viral video" of somebody in Virginia Beach purportedly "Burning 80 Trump Ballots." The city responded in a statement, explaining, "The ballots in the video were sample ballots."
The Trumps continued their election fraud narrative, though, despite it being proven to be meritless. As per Reuters, Donald Trump and co. filed over 50 lawsuits "challenging the election" — state and federal judges struck down all of them. In addition, the outlet noted, "Independent experts, governors and state election officials from both parties say there was no evidence of widespread fraud."
These Trump children were allegedly caught giving false testimony under oath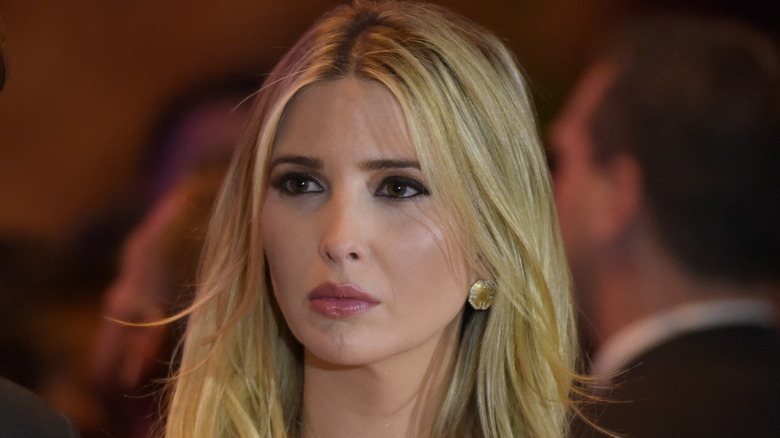 When it comes to testifying under oath, the Trump family's relationship with the truth has frequently been proven to be questionable, to say the least. Per Mother Jones, Donald Trump and Donald Trump Jr. have both "repeatedly" been caught lying and giving "false testimony" during depositions. So, it's no surprise Ivanka Trump has also seemingly chosen to err on the side of falsehoods. 
In January 2020, Karl Racine filed a lawsuit against the Trump Organization and inaugural committee. The Washington D.C. attorney general alleged that "they misused non-profit funds to enrich the president's family business" (via NBC News). He also claimed the committee knowingly "vastly" overpaid for event space at Trump's hotel in Washington, D.C. and that some of the money funded "a private party for Trump's three older children." Ivanka, who was a Trump Organization executive at the time, was called to testify about her role in the inauguration's planning. In her deposition, per Mother Jones, Ivanka swore she "really didn't have an involvement" in the event. She insisted she just provided "feedback" when anybody "asked [her] perspective or opinion."
Racine's lawsuit appeared to tell otherwise. According to Mother Jones, documents showed that Ivanka "was part of the decision-making for various aspects of the inauguration, including even the menus." There were also emails between Ivanka and the committee's deputy chairman discussing event scheduling, as well as emails between Ivanka and a lead producer referencing multiple meetings they'd had, and further emails detailing Ivanka's "discussions about the talent being recruited for the inauguration."
Eric Trump declared there's 'peace in the Middle East' thanks to Donald Trump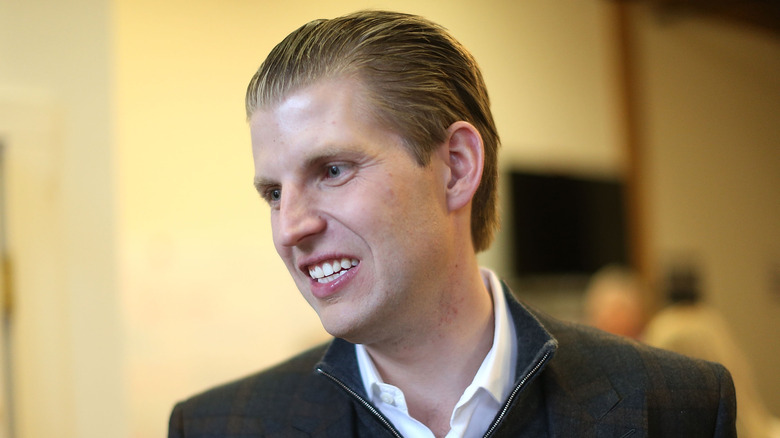 One of Donald Trump's military actions during his last year of office was to launch a drone strike. The target of the attack on January 3, 2020, Iranian military officer Qassem Soleimani, was instantly killed. According to Vox, the assassination risked sparking "a major escalation with Iran and across the region at a time when the overall U.S. position is weak and growing weaker." NBC News agreed, claiming the attack had "stoked growing tensions in the Middle East." Meanwhile, Iran vowed revenge in addition to "ending its commitment to limit enrichment of uranium as part of its 2015 nuclear deal."
However, during his RNC 2020 speech, Eric Trump praised his father for bringing stability and accord to the region. "America was no longer weak in the eye of the enemy," Eric insisted. He went on to declare there was now "peace in the Middle East" and that "never-ending wars were finally ended."
Rachel Maddow was having none of it, though. The news anchor shot down Eric's claims during a segment on MSNBC (via the Daily Beast). "When he declared peace in the Middle East, I am sorry to have to report, but peace in the Middle East has not broken out," she said. "Also, 'never-ending wars are finally ended.' There are no wars that President Trump has ended, and as we noted earlier in the program, it appears that President Trump has increased the number of U.S. military personnel serving abroad since he's been in office."
Donald Trump Jr. swore to tell the truth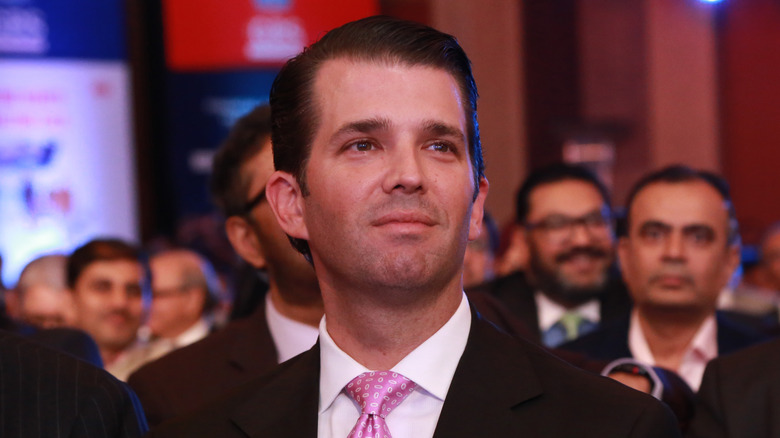 During his businessman days, Donald Trump was famously litigious — firing off lawsuits seemingly at the drop of a hat. According to USA Today, before taking office, The Donald and his business enterprises had "been involved in at least 3,500 legal actions" over 30 years. However, since leaving office, he's now found himself on the other end of the law. As per The Washington Post, the former POTUS has 29 lawsuits "pending," as of this writing. And thanks to Karl Racine's lawsuit over the alleged misuse of inauguration charity funds, Donald Trump's children are also being pulled into the legal quagmire. 
Donald Trump Jr. was deposed in the Washington D.C. attorney general's criminal investigation, and according to Mother Jones, "His testimony on key points was not accurate." Donald Jr. was questioned about his relationship with Stephanie Winston Wolkoff — who was "a top producer" of the inauguration. "I know of her. I think I've met her, but I don't know her. If she was in this room, I'm not sure I would recognize her," he claimed.
However, Mother Jones obtained video footage of Donald Jr. singing her praises the night before the inauguration. "What [Tom Barrack] and Stephanie did here is just incredible," he said. "I mean, I've never seen anything like it." The outlet also had copies of emails between the two, and also pointed out that Winston Wolkoff's book, "Melania and Me," references an intimate White House dinner she attended with Donald and Melania Trump, as well as brothers Eric and Donald Jr., and their then-spouses.
Ivanka Trump hailed her father as an advocate for families and women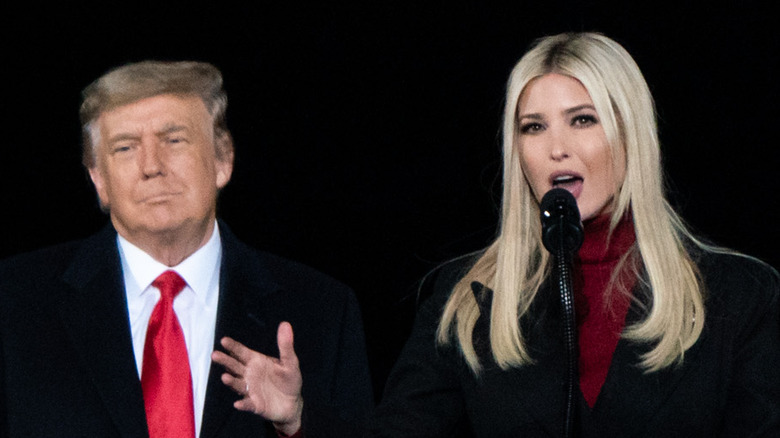 In 2004, Carolyn Kepcher appeared on "NBC Nightline" to promote "Carolyn 101: Business Lessons from The Apprentice's Straight Shooter." In her book, the Trump Golf Properties Executive VP admitted she waited six months before telling Donald Trump she was pregnant. "Maybe, in my mind, he might think this would perhaps be a setback, or maybe, 'I'm going to have to bring somebody in to replace her throughout her pregnancy or when she takes her maternity leave,'" she admitted when asked about her reluctance to inform Trump she was having a baby.
So, it's perhaps little surprise that, when Ivanka Trump hailed her father as an advocate for families, she was met with "boos and groans from the audience." As per the New York Daily News, Ivanka was speaking at the 2017 G20 women's summit in Germany when she made her comments. "I'm very, very proud of my father's advocacy," she said. "Long before he came to the presidency, during the campaign including in the primaries, he's been a tremendous champion of supporting families and enabling them to thrive."
Meanwhile, The Donald had confirmed Kepcher's fears later on in that same "NBC Nightline" interview. "Well, you know, pregnancy is never — it's a wonderful thing for the woman, it's a wonderful thing for the husband, it's certainly an inconvenience for a business," he said. "And whether people want to say that or not, the fact is it is an inconvenience for a person that is running a business."
The Trump children insisted they ceased 'all international business' when their dad became POTUS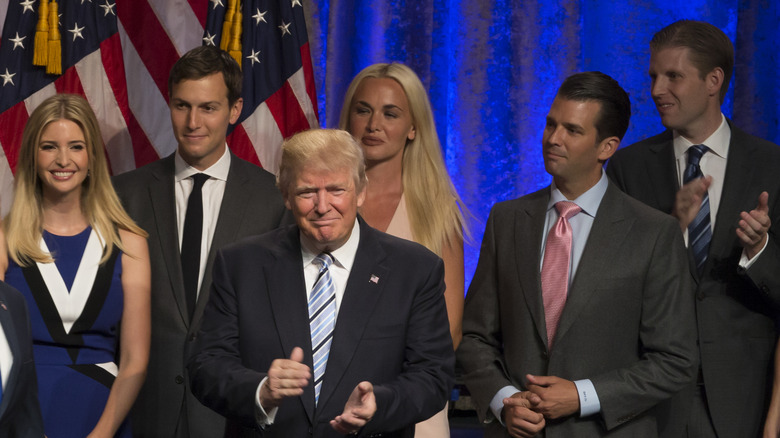 Given Donald Trump's many international companies and position of power on the world stage, the potential conflict of interest when he became president was evident. According to USA Today, not long before being sworn in, Donald explained how he'd ensure his political and business worlds would remain separate. He declared he was "turning over complete and total control" of the companies to his sons. The Donald's lawyer then presented "a six-page plan to insulate the businessman-president from potential conflicts of interest." But in 2019, an oversight committee examination was launched. According to Rep. Jamie Raskin, "The president has turned the government of the United States into a money-making operation for his family, his friends, and himself. This is a complete betrayal of the constitutional design."
Not according to Eric Trump, though, who insisted that there's never been "a president who has sacrificed so much of his wealth [or] made so many personal sacrifices as my father." Eric made his claims during an interview with Fox News at the time, alleging, "When my father became [POTUS], we got out of all international business."
However, PolitiFact debunked Eric's claims. "Multiple news outlets and government accountability groups have documented international business dealings Eric Trump and his siblings have conducted since Donald Trump took office," the outlet reported. "In some cases, the Trump children themselves have celebrated their activities overseas." 
Ivanka Trump denied 'special treatment' over security clearance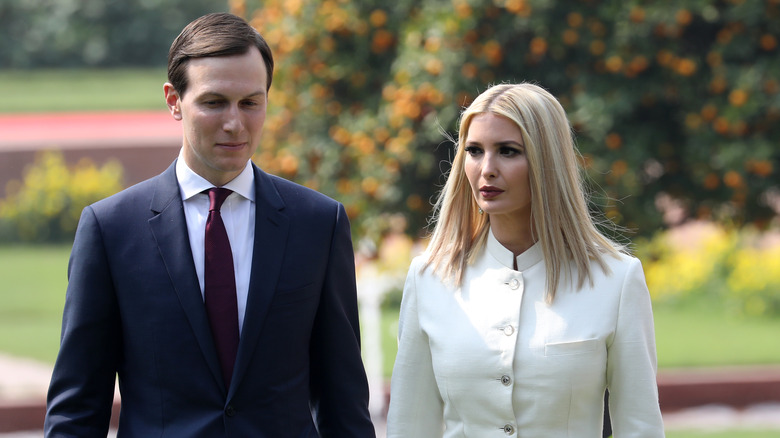 When The New York Times reported that Donald Trump had "ordered" his son-in-law, Jared Kushner, to be granted security clearance, it caused a political firestorm. The Times claimed that the then-president's 2018 decree went against "concerns flagged by intelligence officials and the White House's top lawyer." According to The Guardian, Elijah Cummings, chairman of the House of Representatives oversight committee, "threatened to subpoena the White House" over The Donald's actions amid accusations of "nepotism." As per CNBC, Kellyanne Conway insisted that POTUS had done nothing wrong if he had acted as charged. "We don't discuss security clearances," Donald's senior advisor said. "But the president has the absolute right to do what was described."  
During an interview with Abby Huntsman that aired on ABC News, Ivanka Trump was asked whether she had any concerns about the investigation into her and Kushner's security clearances. "There are a lot of people that question whether you were given special treatment by the president, overriding other officials," Huntsman began, as Ivanka interjected with, "Absolutely not." Ivanka then insisted, "There were anonymous leaks about there being issues, but the president had no involvement pertaining to my clearance or my husband's clearance. Zero."
However, according to Reuters, in April 2019, White House security adviser Tricia Newbold told Congress that Donald Trump had given preferential treatment to his daughter and his son-in-law. As the outlet summarized, POTUS had "overruled security experts to give questionable security clearances to more than two dozen people," and that this included both Ivanka and Jared Kushner.
Donald Trump Jr. claimed COVID-19's death toll was 'almost nothing'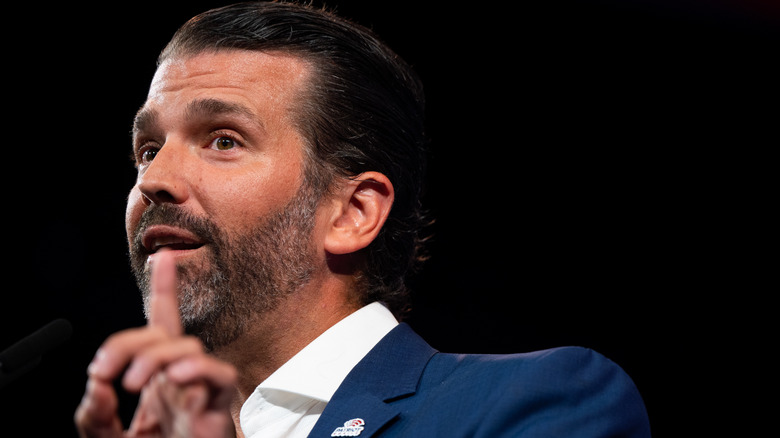 By the end of October 2020, the U.S. had recorded over 9 million cases of the coronavirus. As per the Hopkins Institute (via CNN), there were 89,361 new cases on October 30 alone, making it "the highest single-day reporting since the pandemic began." There were also 968 deaths in the U.S. that same day (via The New York Times), and the worst, by far, was yet to come. CNN reported it was predicted there'd be an estimated "399,000 total coronavirus deaths in the U.S." by February 2021.
However, according to Donald Trump Jr., COVID-19 was already under control by October 30, 2020 — and the number of deaths was "almost nothing." Junior made his baseless claims during an interview with "The Ingraham Angle" on Fox News. "The reality is this," he said. "If you look, I put it up on my Instagram a couple of days ago, because I went through the CDC data, because I kept hearing about new infections, but I was like, 'Well, why aren't they talking about deaths?' Oh, because the number is almost nothing. Because we've gotten control of this thing, we understand how it works."
In reality, according to the CDC, an estimated "545,600–660,200 excess deaths occurred in the United States during January 26, 2020 – February 27, 2021." (The CDC defines "excess deaths" as being above the expected number "for a given place and time" and therefore "likely related to the COVID-19 pandemic.")
They were accused of massively inflating condo sales figures to lure buyers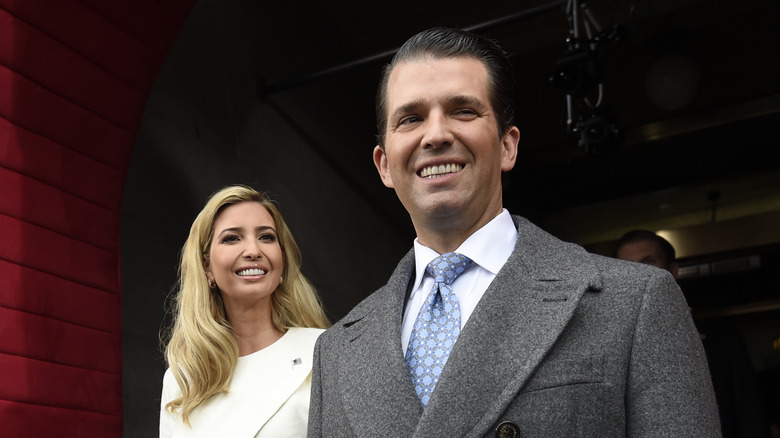 Donald Trump has a well-documented track record of talking up his personal wealth and business acumen to suit his purposes. The Washington Post even claimed, "For Trump, the 'Art of the Deal' has been the art of the con." And when it comes to real estate dealings, Eric, Ivanka, and Donald Trump Jr. appear to have taken a page from their father's book of bigly boasts.
According to The Guardian, the siblings reportedly "took part in a fraudulent scheme to sell units" in the Trump SoHo condominium hotel. Ivanka claimed during a press conference in June 2008 (via Reuters) that "about 60% of the units had already been sold." She said they'd "seen constant demand since sales began." Donald Jr. boasted that buyers from all over the world had been rushing to snap up the pricey pads (via The New York Times), and in April 2009, he told The Real Deal magazine that 55% of units had been sold.
However, as a later Reuters report revealed, their involvement in the marketing of the Tump SoHo condos sparked a criminal investigation. Buyers claimed "they had been defrauded by inflated claims of sales." The lawsuit alleged that, contrary to claims of up to 60% of condo sales, in reality, "just 62 of the 391 units, or 16%, had been sold." The plaintiffs' attorney claimed his clients had been tricked into buying properties by the Trumps' "collective efforts to pump up sales through false and misleading statements."
The Trump children complained that Donald Trump's presidency lost the family 'a fortune'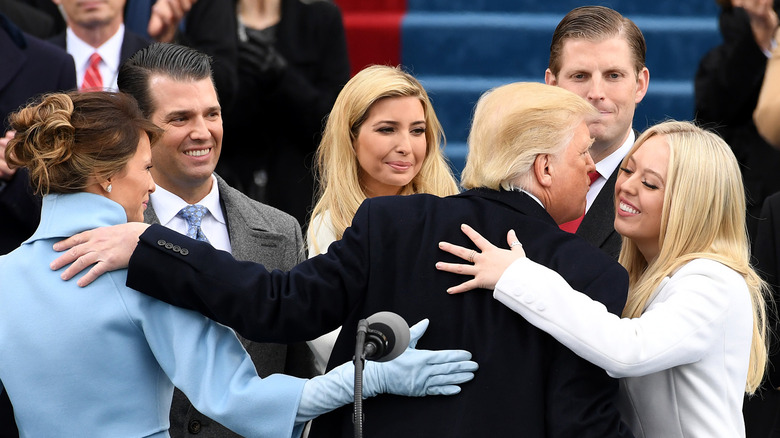 Donald Trump's finances were under intense scrutiny throughout his four-year term, with multiple allegations of his family and friends profiting from his presidency. In October 2020, The Washington Post reported that Donald's businesses, including Mar-a-Lago — a.k.a. "the winter White House" — had received more than $2.5 million in taxpayer funds over three years.
However, according to Eric Trump, his father's political stint had cost the family — bigly. During an amped-up "This Week" interview on ABC News, Eric was asked about The New York Times' report that pro-Trump "companies, special interest groups, and foreign governments" had profited significantly from their support of him. Eric swerved the question and went on the defensive instead. "We've lost a fortune. My father's lost a fortune running for president. He doesn't care," he claimed. "… He wanted to do what was right."
But, as per Forbes, "Trump's businesses raked In $1.9 billion of revenue" between 2017 and 2019. The outlet also debunked Donald Trump's claim that being POTUS was "probably costing [him] from 3 to 5 billion" dollars. "His net worth has not dropped by $3 billion since he went into politics — let alone $5 billion, which is more than he's ever been worth," Forbes reported, before going on to estimate "a drop of $1.4 billion" in Trump's finances — claiming "only a sliver of that has to do with politics" and mostly to do with his lies of inflated worth and "market forces."
Source: Read Full Article