What Was the Real Reason João Franco and Brooke Laughton From 'Below Deck Med' Broke Up?
During the season three Below Deck Mediterranean reunion, couple João Franco and Brooke Laughton seemed as though they had already called it quits.
Franco, who was a deckhand at the time, was called out for chronically flirting with third stew Kasey Cohen while dating second stew Laughton. By the end of the reunion, neither stew seemed overly interested in buying whatever Franco was selling.
But viewers never really knew if something specifically happened or if Laughton had enough of Franco's player ways. While the union seemed doomed from the start, Franco revealed why the two finally called it quits for good.
The relationship quickly unraveled
Franco said he and Laughton really tried to make a go of the relationship after Below Deck Med wrapped. "Brooke and I threw ourselves in the deep end. I met her family, she met mine. She came to Zimbabwe, and we worked so well together, we really did," he said in a confessional interview during the season four premiere.
In fact, he recently told Bravo's The Daily Dish he left a pretty sweet gig working as a bosun on a 60-meter charter vessel in Europe to be with Laughton.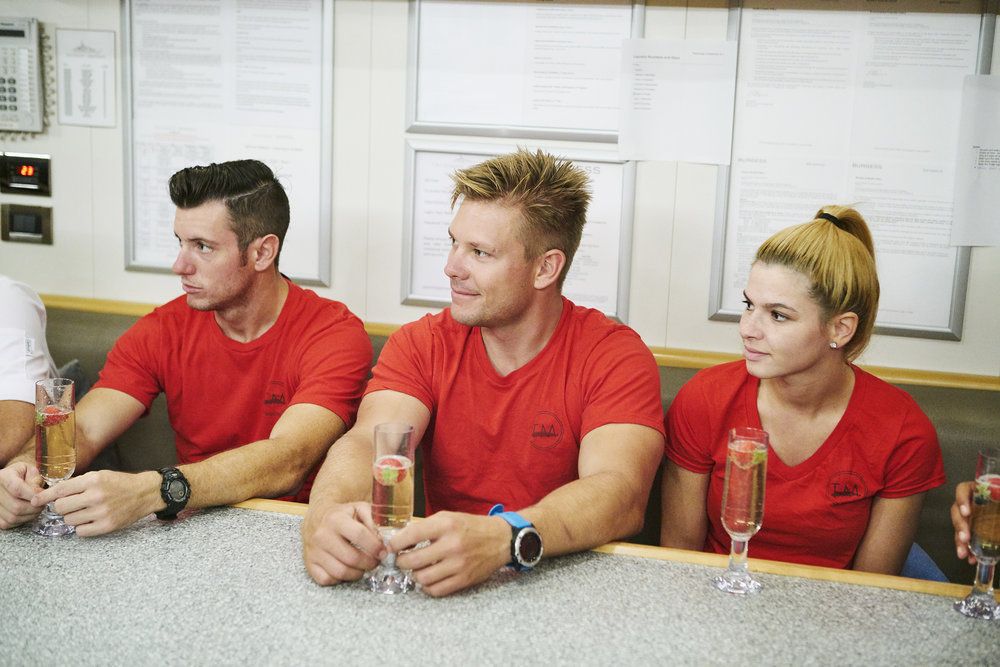 He said he left the job at Laughton's request to meet up with her in the U.S. But the minute he arrived he knew something was wrong. Seriously, wrong.
It came down to this
Franco shared that Laughton was already in another relationship by the time he had quit his job and arrived in the U.S. "Things seemed perfect, but I found out she cheated on me," he said. "I really, really loved her. I wanted to make it work, even so, but she didn't want to, so what can I do?"
Unfortunately, Franco found himself in a tough spot when he learned he had been replaced by another man. "Well, by the time I figured out exactly what was going on, I couldn't really believe it because I had literally quit my dream job," he admitted.
Furthermore, Franco had made big plans for the couple too, which made the infidelity sting even more. "I was busy planning a trip on a sailboat for us for two-and-a-half months, and she asked me to give her one more month on her boat in order for her to be happy to leave, and it turned out she was with the other guy."
Laughton, however, refutes this claim. She told People his account doesn't accurately reflect what occurred. "Although it initially hurt to hear João blamed our relationship break down on a false claim that I cheated on him, it is very true to his character and allows him some relief for his ego. In reality, there was absolutely no cross over between when I realized what kind of person I wasn't looking for and the kind I was and I absolutely did not cheat on him," she said.
They no longer speak but…
Franco affirmed that he and Laughton no longer have contact. "We haven't spoken to each other since, not once. She had apologized to me through a friend of mine, and then I just said to her, I don't know what she wanted, but I was over it, so I told her that," he said. "I wouldn't be able to speak to her again."
Of course, Franco felt pretty wounded as he boarded the Sirocco for season four. But he stayed single during the season until he met Michelle. New girlfriend Michelle Dicu seems to be Franco's perfect match. Dicu and Franco spoke with Showbiz Cheat Sheet in March about a recent shark dive the two did together.
Franco said Dicu is up for just about everything and he loves that about his special new lady. "I sort of just asked if she might consider doing the shark dive with me," he says. "She said 'why not?' which was amazing." Dicu too is all about adventure. She and Franco recently went fishing and the two share the same outdoorsy spirit. Despite the painful breakup, it looks like Franco finally found true love.
Source: Read Full Article