Ian White discusses his remarkable run of form on the Darts Show Podcast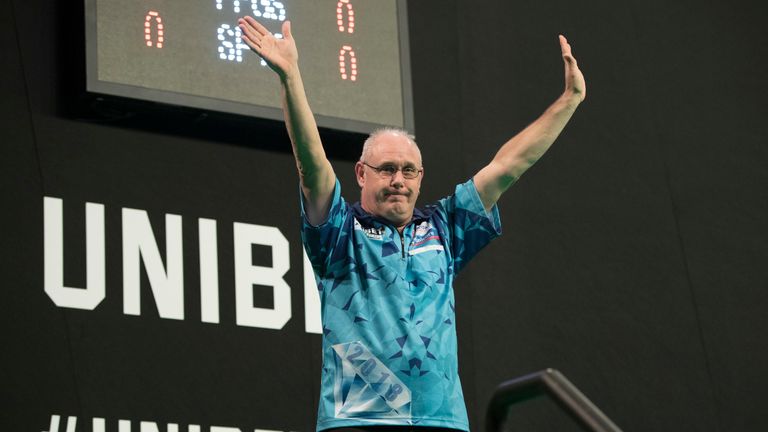 Ian White has embarked on a remarkable run of form that has seen him reach four consecutive European Tour finals and catapult himself into the world's top 10 and 'The Diamond' admits he's riding the crest of a wave.
The Stoke-on-Trent ace has forged a reputation for being one of the most consistent performers on the floor over recent years, but his big-stage performances have often been the subject of scrutiny.
DOWNLOAD THE LATEST EPISODE OF THE DARTS SHOW PODCAST NOW
Nevertheless, White has accrued £70,000 in prize money across his last four European Tour events to demonstrate his big-stage credentials.
White followed up successive final defeats against Michael van Gerwen by claiming consecutive titles at the European Darts Grand Prix and Dutch Darts Masters – beating Peter Wright and MVG in the respective finals.
That has seen the 48-year-old leapfrog Simon Whitlock and establish himself in the world's top ten and White told the Darts Show Podcast that he's enjoying the fruits of his success.
"I've seen the benefit over the last month," he said. "The money's going into the bank account and I'm thinking what am I going to do with this?
"I'm only used to your quarter-finals on the Pro Tour and you get a couple of grand here or there but all of a sudden this money has come in and I'm going, 'put it away, put it away!'
"I think it's the practice paying off for me now. You need a bit of luck. People keep saying you make your own luck but if you'd have looked at those last two tournaments I've won, I could have gone out in the first round."
White has now won three European Tour titles and all in the space of nine months – only Van Gerwen, Wright, Michael Smith and Phil Taylor have won more throughout their entire careers.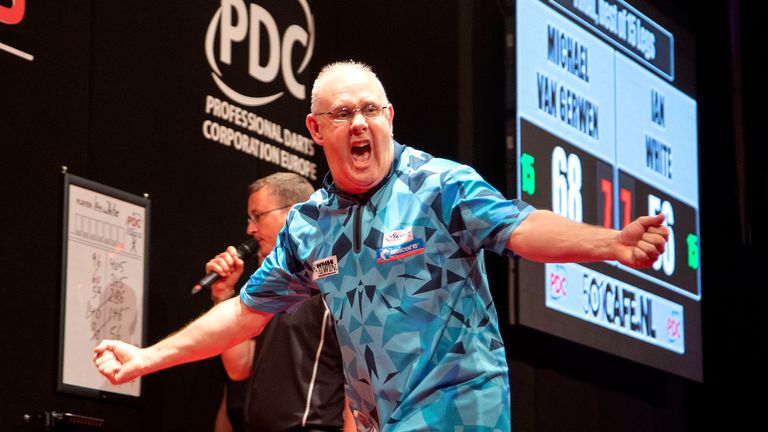 However, the Stoke star credits his stunning recent success to experience – learning how to compete and win against the world's best on the big stage.
"I love playing the top players," White added. "When I first came over and I played on the Pro Tours I kept hitting James Wade all the time and I was so close; losing 6-5 and 6-4 but my game got stronger and stronger.
"Then when I did play against other players, you could see the difference in the standard of darts I was playing against James wasn't the same as any of the others, so I started getting through a few more rounds and I think it's the same now.
"When you start playing these tournaments and you're playing Michael van Gerwen all the time, you're playing Peter Wright all the time, you're playing all of these top players – all of a sudden you get that break and you go all the way through.
"I've wanted Michael for the last few weeks because he beat me in the first two [European Tour finals] and I thought I've got to get my own back as quickly as possible, because he can destroy you.
"If you look over the last few years I've been playing well on the Pro Tour and doing quite well on them, but my game on the Europeans wasn't quite getting there but once I got there, I kept doing it and doing it and you get used to it."
White's impressive 2019
Only Michael van Gerwen and Nathan Aspinall have won more ranking prize money than White in 2019 so far.
However, the task now for White is to transfer this European Tour form to the televised arena in the second half of the season.
'The Diamond' has remarkably never gone beyond the last eight of a major televised event – losing on seven separate occasions at the quarter-final stage.
Despite this, he'll have plenty of opportunities with the World Matchplay, World Grand Prix, European Championship, Grand Slam of Darts, Players Championship Finals and World Championship all to come later this year and White insists he just needs a bit of good fortune.
"When I get on that stage I do play good darts," White said. "I'm hitting near enough 100 averages. When I played Mensur at the Matchplay; he won ten legs against me, five of them were all on the bull.
"I think the other year I lost to every player that was in the Premier League – every single player. I've written them down on a piece of paper somewhere thinking 'wow, every one of them is in the Premier League and they're the people that have to beat me'. I'm just outside that little group.
"At the moment I'm just riding the wave. I'm having a laugh on the tour and I'm really enjoying it so let's just keep going."
White remaining grounded
"At the Players Championship in November I had a 111 average and I came off and they said 'oh you can play on stage' and I said I hadn't said I couldn't.
"I've got to the quarter-finals but I just haven't got past. If I had hit that double 10 against Gerwyn Price in the UK Open [2017] I'd have been in the semi-finals but he took 160 out and beat me, but that's just hard luck."
The World No 10 also believes those involved in the Premier League have a huge advantage over their rivals due to the big stage experience they accumulate on a weekly basis, which he believes make the European Tour events even more significant.
"I've said all along these people that are in the Premier League from February – it's a massive advantage compared to what we get, because we finish in the UK Open on stage and apart from the Europeans the next one is Blackpool," he added.
"It's a massive difference for them, don't get me wrong it's tiring because I've spoken to the lads and they're all made up it's finished now but they have a massive advantage and with these Europeans you've got to try and take as much advantage of that on stage as you can."
Source: Read Full Article