Army Of The Dead's Zombie Queen Is Gorgeous In Real Life
Zack Snyder's "Army of the Dead" ups the stakes of your usual zombie flick by turning it into a heist film. Dave Bautista plays a seasoned mercenary (and artisanal grilled cheese fan) who puts together a skilled group to help him sneak into Las Vegas in hopes of scoring a massive payload. But making it out alive will be a real crap shoot — the president plans on nuking the zombie-infested city, so they have a limited time to get in and out. To make matters worse, not all of the zombies are shamblers of "The Walking Dead" variety.
At the beginning of the movie, viewers are introduced to Alpha zombie Zeus, who is played by Rich Cetrone. He escapes from a military convoy and quickly gets busy creating his undead army by attacking the soldiers who were transporting him. They make their way to Las Vegas and begin building their kingdom. Zeus even finds his own loyal Zombie Queen. Her time in the movie was brief, but she quickly won viewers' hearts with her ear-piercing scream and fabulous regal outfit, complete with spiked shoulders, bejeweled headpiece, and kitten heels.
"Army of the Dead" left viewers wanting to know more about the Zombie Queen's origin story, and the woman behind her scarred gray skin and red-yellow eyes. So who is Athena Perample, the actor who brought the undead royal to life? Keep scrolling to see what she really looks like.
Why you rarely see Athena Perample's face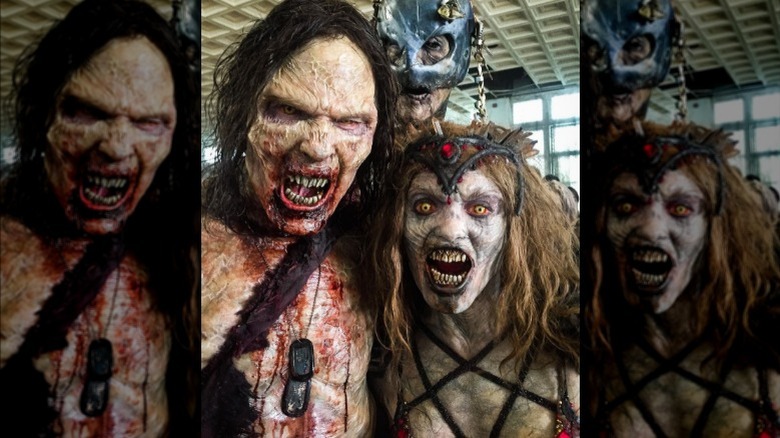 For her role as the Zombie Queen, Athena Perample had to jump on top of burned-out cars and master a creepy zombie crawl. Sometimes, her job requirements are even more physically demanding. She's a stunt woman who previously appeared in the Marvel series "WandaVision," where she doubled for both Kathryn Hahn and Kat Dennings (via IMDb). Perample was Leila George's stunt double in the series "Animal Kingdom," and some of her other stunt credits include "Terminator: Dark Fate," "Legion," and "Euphoria."
A 2017 stunt reel shows Perample throwing punches, being slammed against a wall, swimming underwater, and performing back handsprings. In another YouTube video, she expertly handles a handgun, shooting multiple targets in rapid succession. According to iStunt, she's trained in a number of different fighting styles, including Tae Kwon Do, Jujitsu, and Kung Fu. She also has competition-level gymnastics training and is an incredibly accomplished dancer who can perform ballet, jazz, flamenco, and hip hop, to name a few of the styles she has mastered. While her performance in "Army of the Dead" didn't require her to show off her complete skill set, Zack Snyder was impressed. "The actress, Athena [Perample], who plays the zombie queen is amazing, and all in, and just so cool," he told Insider.
What Athena Perample did for Kaley Cuoco
Athena Perample once performed with the Aqualillies, an aquatic entertainment group that performs elaborate synchronized swimming and dance routines. She's even listed on the company's website as one of its choreographers. "I love Aqualillies. They have become a huge part of my life," she told the Traverse City Record-Eagle in 2011.
In July 2014, Perample was a member of the group of Aqualillies who were invited to perform at Kaley Cuoco's house. As reported by People, they were hired to put on show for guests at a big birthday bash that the "Big Bang Theory" star was throwing for her then-husband Ryan Sweeting. A video Perample shared on her Instagram page showed the Aqualillies rocking yellow bikinis and dancing on the steps of the couple's pool. In a now-deleted Instagram post, Cuoco wrote that they were "swimming and rockin out to One Direction on the sound system." People reported that some guests' photos showed them wearing mermaid costumes. "Full day of fun in the sun with @aqualillies," Perample captioned her video. "Thank you @kaleycuoco for having us celebrate."
Athena Perample was in this singer's music video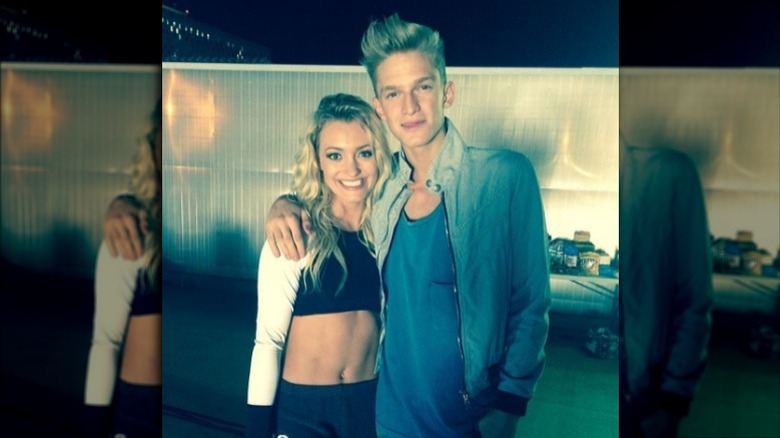 In April 2014, Athena Perample took to Instagram to share a photo that was snapped on the set of the shoot for Australian singer Cody Simpson's "Surfboard" music video. The video famously starred Simpson's ex Gigi Hadid, whom he dated before his whirlwind romance with Miley Cyrus made headlines. In the video, Perample was a member of a trio of women who danced in shallow water and whipped their wet hair around. The stuntwoman never had to hop on a surfboard, but her iStunt page lists both longboard and shortboard surfing as skills she possesses.
According to the Record-Eagle, Perample began dancing at age 11 after deciding that she preferred it over gymnastics. She honed her skills at the Dance Arts Academy in Traverse City, Michigan. By age 14, she was already choreographing her own routines. She can be seen showing off her dancing skills in a funny video that shows her dancing to the Britney Spears song "Toxic" in costume as the Zombie Queen.
Perample's dance skills and stunt experience have helped her land roles in a number of music videos. She had a larger role as a vengeful drink server who fantasized about torturing the party guests she was serving in Borgeous' 2017 music video for "You." That same year, she rocked her underwear while performing a passionate dance routine with a male performer to provide stunning visuals for Nytrix's "Under Electric Skies."
Athena Perample was on a reality show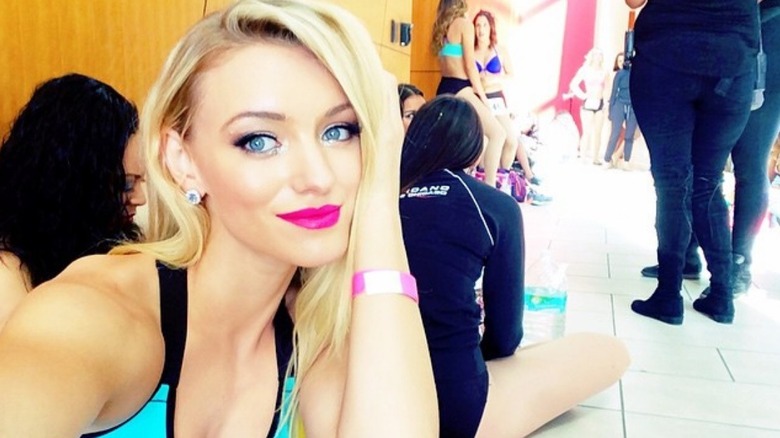 Athena Perample appeared on the E! reality series "L.A. Clippers Dance Squad" in 2016. The show followed the lives of members of the L.A. Clippers Spirit Team, and Perample was the squad's co-captain. However, she got fired while the dancers were in China (via E! News). Creative director Petra Pope explained that Perample had shown a "blatant disregard and blatant disrespect" for the rules that she had set. "I explained before if you don't follow the rules, you will be terminated because I don't have time to play games," she said.
Perample revealed that she had hoped to work her way up to Pope's position someday, but those dreams were shattered. "I'm so afraid that this could ruin my reputation. I've never been fired from a job before. It's awful," she stated. She said that experience made her feel "embarrassed" and "humiliated." Luckily, she had plenty of other pursuits to keep her busy. According to Popsugar, Perample is also a fitness model who has worked with big brands like Sketchers, Nike, and MAC. She shares some of her modeling photos on her Instagram page, where she boasts a following of over 65,000 fans. Additionally, Perample has landed a few non-stunt acting gigs.
What Athena Perample did in Target to score a role on Glee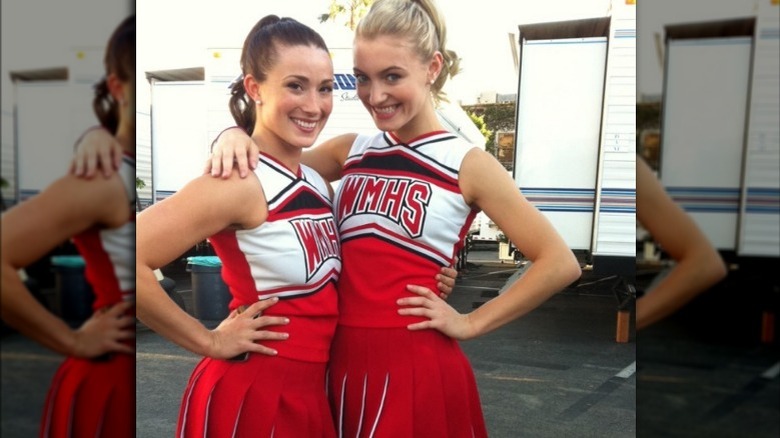 In 2011, Athena Perample was cast as a cheerleader on the television series "Glee." She told the Record-Eagle that she didn't land the part when she first auditioned for the show, but she got a second chance to prove that she belonged with the Cheerios by displaying her athleticism during a shopping trip. She recalled being in Target when her agent called and asked her a seemingly random question: "Athena, can you lift your leg up to your head?" She confirmed that she could, and, at her agent's request, she sent him a photo of herself showing off her flexibility in the store's shoe department. This is what helped her secure the part.
"It's the best time of my life. Everyone is great, everyone is so nice," Perample said of her experience. "Everyone works their butts off, it's the hardest working cast." Screenshots on her Instagram account also show her playing a cheerleader on the Disney Channel series "Austin and Ally" in 2013.
Perample has had a colorful career that actually included a stint performing in Las Vegas at Beacher's Madhouse at the MGM Grand in Las Vegas. And who knows? Maybe her Zombie Queen character used to be a Sin City performer herself. Fans of the woman who stole Zeus' cold undead heart can only hope that she gets an origin story in one of the "Army of the Dead" prequels in the works.
Source: Read Full Article