Attention @ Everyone Wondering How Much Katie Thurston's Engagement Ring Is Worth
Katie Thurston and Blake Moynes are officially engaged after a true rollercoaster of a season (or in Blake's case, a true rollercoaster of three-ish seasons) and the time as come to discuss Katie's ring.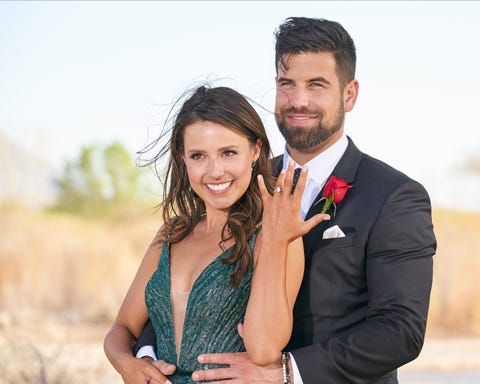 Blake picked out a fancy diamond from Neil Lane, and according to The Daily Mail, it's worth about $80,000. Meanwhile, Neil tells E! News that Katie's ring is "handmade in platinum," and has a giant oval-shaped diamond that "is centrally set within a crown motif and a hidden diamond halo." It also has "over 90 smaller round diamonds for a total weight of three carats." Nice.
Obviously, $80,000 is a huge amount of money to spend on a ring, but nope: Blake didn't pay for it. ABC foots the bill for engagement rings, and if a couple ends up splitting, they have to return the ring. Former host Chris Harrison explained it like this: "There's some rule, after a certain number of years, you get to keep it anyway. But after months…it goes back."
Goes back where, exactly? Truly who knows, but not to Neil Lane. He told StyleCaster, "I make rings hoping that people stay together forever, but after they get the ring, I don't have a say in it, and what happens after that, I don't know. Where the ring goes, I have to say, I don't really know. I just say it goes to ring heaven. That's my response."
So, how valuable is Katie's ring compared to others on the show? It's on the lower end of what these rings are worth, which tends to be anywhere between $80-100k. The ring Ben Higgins proposed to Lauren Bushnell with is said to be the most valuable in the show's history, worth around $100,000!
Source: Read Full Article