CoComelon Creator Moonbug Sold to Kevin Mayer and Tom Staggs' Media Company
The deal values the company for as much as $3 billion
Moonbug
Kevin Mayer and Tom Staggs' Blackstone-backed company has bought Moonbug Entertainment, producer of he popular Netflix children's program "CoComelon," it was announced Thursday.
The deal values the company for as much as $3 billion, an individual with knowledge of the deal previously told TheWrap.
Moonbug's founders CEO René Rechtman and COO John Robson, and existing management team and shareholders, will retain equity stakes in the Mayer-Staggs company, Moonbug said in a statement.
The deal adds to the two former Disney executives' portfolio that so also includes Reese Witherspoon's Hello Sunshine. Hello Sunshine was valued at $900 million in that deal.
On Netflix, "CoComelon" is one of the streaming giant's most popular shows, routinely showing up in the daily Top 10. It's based off a YouTube channel of the same name and also has a merchandising wing.
"John and I have built a category-leading, digital-first kids entertainment business based on strong values and content that is focused on digital platforms," Moonbug's Rechtman said. "Our vision is to build global family franchises, which is wholly aligned with Kevin and Tom's vision and experience. I have had the pleasure of working with them both earlier in my career and am thrilled to be reunited to build the next global powerhouse of entertainment. You could not find stronger partners in our industry."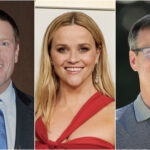 Mayer's and Staggs's new company, which does not yet have a name, has the financial backing of Blackstone — but is not the special-purpose acquisition company (SPAC) that Mayer and Staggs had also announced.
Staggs and Mayer have been looking to acquire content companies as part of their new venture, which would serve as a holding company. Along with Hello Sunshine and Moonbug, the two have held talks with Will Smith's Westbrook Entertainment, Scooter Braun's Ithaca Holdings and Ben Silverman's Propagate Content. Talks fell apart for those three.
Mayer and Staggs said they "have known René and his innovative team for years, including during our time together at Disney, and they have built a perfect example of the type of category-defining business we are looking to bring into our company."
"They know how to identify and support brands that are beloved by millions of families across the globe," Mayer and Staggs said in the statement. "We and our partners at Blackstone look forward to helping expand Moonbug's portfolio of titles and further extend its franchises across digital platforms and key licensing and merchandising channels."
Joe Baratta, global head of private equity at Blackstone, and David Kestnbaum, a senior managing director at Blackstone, said: "We are thrilled to partner with René, John, and the impressive Moonbug team. They deeply understand the fast-changing digital media environment and have rapidly established Moonbug as a digital-native powerhouse in children's entertainment. We are excited to help fuel their continued expansion in the years ahead."
Source: Read Full Article