Everything You Need to Know About 'Big Little Lies' Season 2 Right This Way!
Big Little Lies started out as a limited series, but its finale left watchers wanting way more of the Monterey moms and their story. Thankfully, HBO announced that Big Little Lies season 2 is on the way, with seven new episodes. Here's what's been confirmed so far: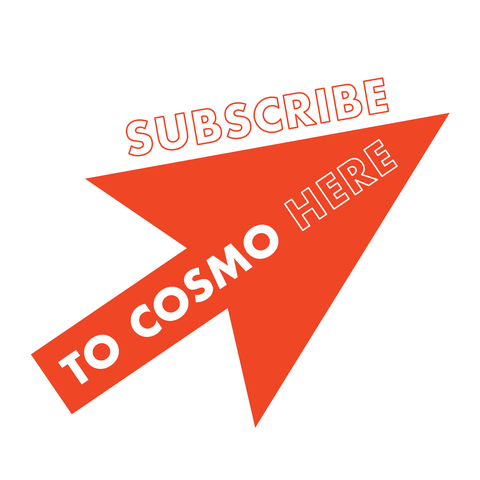 1. Season 2 will premiere in June 2019. After so, so much waiting, HBO finally announced that Big Little Lies will return to our lives on June 9, 2019. The announcement was made at the 2019 TCAs in February 2019 and yes, I am going to tag myself and say that I'm Meryl Streep's wig.
Tag yourself. I'm Renata. #BigLittleLies returns this summer on #HBO. #BLL2 #TCA19 pic.twitter.com/fggfvEwQdy
2. The first-look photos are intense. Am I just being sensitive? Or do almost all of these pictures look like there is either a confrontation or a solo "oh shit" realization moment happening?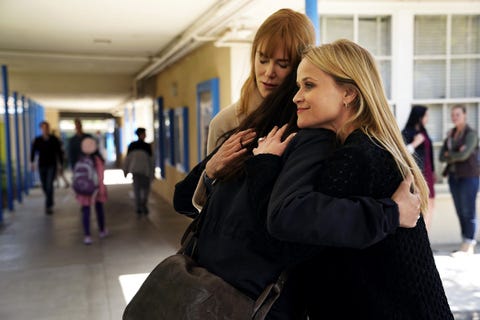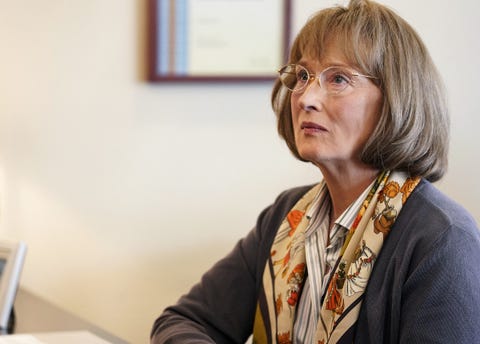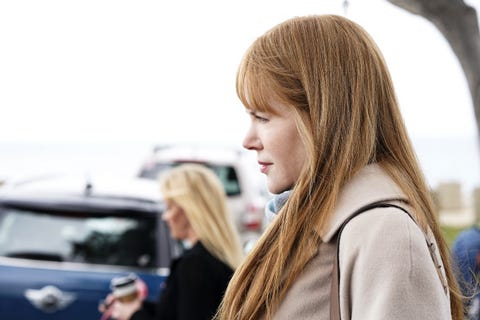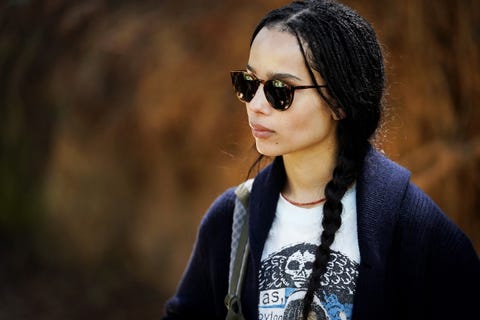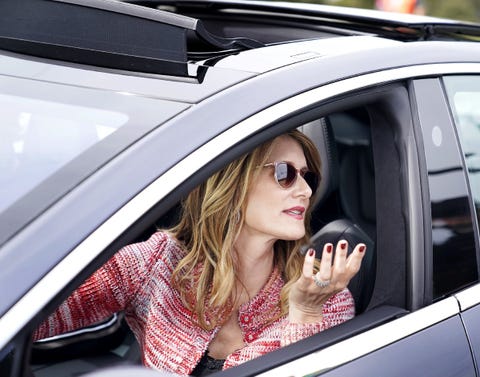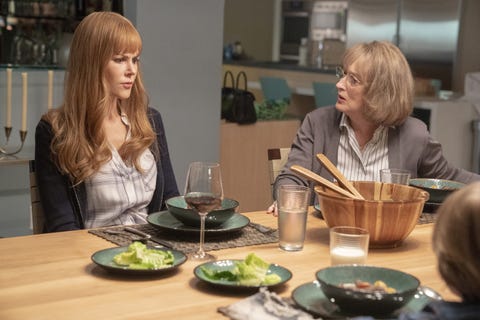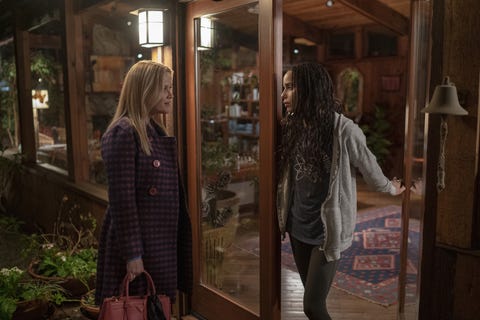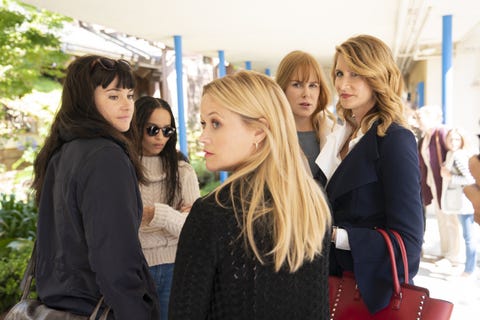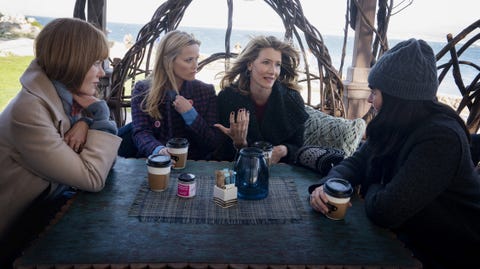 3. The teaser looks like a real scream. By that, I mean it looks very entertaining and everyone appears to be screaming a lot. Also, make sure you don't miss the epic shade Meryl throws at the end. She's going to be a fantastic addition to this show, obviously.
4. The show finally got its own Instagram account. I'm going to go out on a limb and assume that the new official Big Little Lies Instagram page is going to be riddled with hints about the new season. Right now, it's just a giant grid of videos, stills, and gallery posts with the names of the cast. If you visit the page and look closely, you'll notice that it spells out the message "new lies."
A post shared by big little lies (@biglittlelies) on
5. There's a new director attached. Jean-Marc Vallée directed every episode of season 1 and is quoted as saying, "If we do a season 2, we'll break [a] beautiful thing and spoil it." He somewhat predictably decided not to return for the second season and was replaced by Andrea Arnold, who previously directed episodes of Transparent and I Love Dick as well as films including the Oscar-winning short Wasp.
6. The OG members of the Monterey Mom squad will be back! Reese Witherspoon and Nicole Kidman will also return as executive producers, while Zoë Kravitz, Laura Dern, and Shailene Woodley will reprise their roles onscreen.
Watch out Monterey, here we come! #BLL2
A post shared by Reese Witherspoon (@reesewitherspoon) on
7. The author of Big Little Lies also wrote season 2's story. Big Little Lies is based on a book of the same name by Liane Moriarty, and while Moriarty never published a sequel to the book, she wrote a new story that season 2 will be based on. Season one showrunner and writer David E. Kelley will also return to write the episodes.
8. Alexander Skarsgård will definitely turn up again. Alexander won an Emmy, a SAG Award, and a Golden Globe for his portrayal of Perry, but his character was also revealed as the victim in a fatal (and frankly welcome) stairway "accident." That said, Nicole accidentally dropped a huge spoiler for the second season and said Perry "has a little bit of a part." Alexander has also teased, "I don't even know if I'm really dead or not. I feel okay right now, but we'll see," but it seems Nicole just gave it away and he could appear in some flashbacks.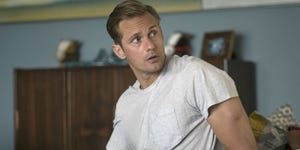 9. Meryl Streep will play Perry's mom. And she'll arrive with plenty of questions about her son's death. In April 2018, Nicole shared a first look at Mary Louise Wright (Meryl) with Celeste's "darling boys." What are they looking at? A secret recording from the ghost of Perry? Meryl's cinematic history?
First day on the set with Meryl and "my" darling boys! #BigLittleLies
A post shared by Nicole Kidman (@nicolekidman) on
10. Perry's mom and Madeline will have some sort of showdown. In August 2018, Reese and Meryl were spotted filming a scene involving an ice cream cone in Los Angeles. More specifically, Madeline was seen hurling the cone at Mary Louise. Does the latter get too far in her personal investigation? Is this Madeline's way of warning her?
11. Bonnie's parents will show up. In April 2018, the Hollywood Reporter broke the sad news that Zoë's real-life parents Lenny Kravitz and Lisa Bonet will not play Bonnie's parents on BLL. Rather, those roles will go to Martin Donovan (of Weeds fame) and newcomer Crystal Fox, who will play Martin and Elizabeth Howard, respectively.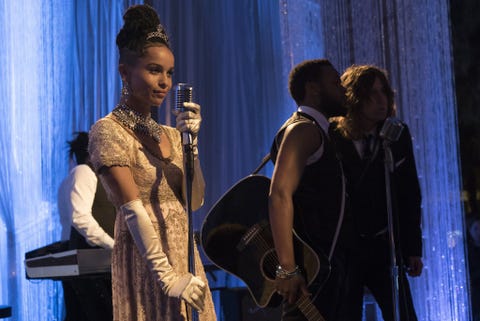 12. Renata will have some "challenges" in her marriage. In February 2018, Deadline released some basic plot points for the next season, including Renata facing some marital difficulties.
13. Bonnie will struggle with what she did to Perry, as it relates to something else in her past. The same Deadline report suggested that there's more to Bonnie than meets the eye, and Perry's death will drag up some unsavory memories for her.
14. There will be a hot, "offbeat" surfer in town. Please welcome to the stage (via Deadline) actor Douglas Smith, who will play Corey Brockfield, who's also an "aspiring marine biologist" and Jane's (Shailene) coworker. The Canadian actor's filmography includes the TNT series The Alienist, CSI: Crime Scene Investigation, and Big Love, in which he played Bill and Barb's son, Ben. Here he is looking cute on the beach:
https://www.instagram.com/p/Bb0XuVaBWL7/
Thanksgiving eve
A post shared by Douglas Smith (@douglasthesmithest) on
And here he is doing a handstand on a surfboard, since no official images of his character are available yet.
The goal is to do this on the water one day
A post shared by Douglas Smith (@douglasthesmithest) on
15. The cast will receive significant pay raises. Via ABC News, Casey Bloys, the president of programming for HBO, confirmed in April 2018 that the cast will receive pay increases. He also told THR in an earlier interview that the pay raise was a "direct result" of the Time's Up movement. "One of the things that's come out of thinking about the movement and some conversations with Reese, who's really at the forefront, is something we've done recently. We've proactively gone through all of our shows—in fact, we just finished our process where we went through and made sure that there were no inappropriate disparities in pay, and where there were, if we found any, we corrected it going forward." In January 2018, THR reported that Reese and Nicole, who are also producers on the show, will earn $1 million per episode on season 2, compared to $250,000 to $350,000 per episode on season 1.
Beautiful sunset on set of #BigLittleLies! So lucky to be working with these amazing actresses& actors , our great director and incredible crew. Love my job! Feeling very grateful. #TGIF
A post shared by Reese Witherspoon (@reesewitherspoon) on
16. Otter Bay Elementary will welcome a new teacher. Mo McRae, who was most recently seen in Pitch, will join season 2 as Michael Perkins, a new second-grade teacher who causes Renata's daughter to have a panic attack after a lesson on global warming. In May 2018, HBO confirmed that P. J. Byrne will reprise his role as the school's principal. The network also announced that Poora Jagannathan (Gypsy, The Night Of) will play a new character named Katie Richmond, although no further details were available.
So happy to be able to finally share this—Big Little Lies': Denis O'Hare Set To Recur In Season 2 Of HBO Series https://t.co/kodnpiJa7O via @deadline
According to Deadline, Denis O'Hare, perhaps most famous for being on several seasons of American Horror Story, will have a recurring role on season 2 of Big Little Lies, playing a new character named Ira Farber. On TV, O'Hare was most recently on episodes of The Good Fight and This Is Us. You can catch him on the big screen in 2019 in the adaptation of The Goldfinch, which also stars Ansel Elgort, Nicole Kidman, and Sarah Paulson.
17. Meryl's been having a blast on- and off-set. Here she is hamming it up for a photo during a group bowling outing.
We work and we play! Bowl-a-Rama party with the ladies of #BigLittleLies! 🎉 @nicolekidman #MerylStreep @shailenewoodley
A post shared by Reese Witherspoon (@reesewitherspoon) on
18. Production wrapped in August 2018. And judging from everyone's shout-outs to Arnold, viewers are in for a strong second season.
That's a wrap on #BigLittleLies Season 2 filming! What a beautiful journey this has been with my Monterey 5 sisters and our passionate dedicated crew. Thank you HBO for the amazing opportunity and thank you Andrea Arnold for being our fearless leader, and of course the one and only Meryl Streep for believing in us. I love you all. xx
A post shared by Nicole Kidman (@nicolekidman) on
Feeling so grateful to my #BigLittleLies family on our last day of shooting Season 2! 🌟 You have all inspired me, supported me, made me laugh & cry. Making the second season even more exciting than the last (I can't wait for y'all to see it!!) Thank you @HBO and our amazing Director Andrea Arnold! Big love to my sisters @nicolekidman @lauradern @shailenewoodley @zoeisabellakravitz and #MerylStreep. ❤️❤️❤️
A post shared by Reese Witherspoon (@reesewitherspoon) on
Andrea Arnold. Wrapping our Big Little Lies journey today. Loving you and my tribe of sisters. @nicolekidman @reesewitherspoon @zoeisabellakravitz @shailenewoodley #merylstreep #BLL
A post shared by @ lauradern on
That's a wrap on #BigLittleLies. Back to being a surfer mom.
A post shared by @ lauradern on
19. No matter how many seasons HBO will order, Nicole and Moriarty will continue to work together beyond Monterey. In July 2018, Nicole and producer Burna Papandrea purchased the film and TV rights to Moriarty's upcoming book, Nine Perfect Strangers, which will hit bookshelves September 18. According to a release, Nicole will play a best-selling romantic novelist who's on a 10-day retreat at a secluded health resort.
Thrilled to partner with @MadeUpStories again to bring the extraordinary Liane Moriarty's Nine Perfect Strangers to life. Can't wait for you to read it. It's soooo good xx
A post shared by Nicole Kidman (@nicolekidman) on
20. In January 2019, HBO released a compilation of its 2019 TV lineup, and Meryl made an appearance. Behold, at the 26-second mark, Meryl (as Perry's mom) saying, "I want to know what happened that night" while the camera pans to the ladies in a lineup at the police station. Get excited!
Most of the cast subsequently shared a photo of the lineup moment. To borrow Reese's words, "It's all happening."
It's all happening. #BLL2
A post shared by Reese Witherspoon (@reesewitherspoon) on
https://www.instagram.com/p/BsV1Mx6lIzZ/
the countdown …. to … season … 2 … @hbo #BLL #BLL2 #biglittlelies
A post shared by shailene woodley (@shailenewoodley) on
Dude: can I have your number ? US: 👆🏽….. #BLL2
A post shared by Zoë Kravitz (@zoeisabellakravitz) on
21. Whether or not there will be a third season is TBD. While BLL creator and executive producer Kelley has said, "It's 1 and 2, and we like our closure with season 2, but that will probably be it," Nicole has other ideas. When talking about the possibility of season 3, she said, "There's no plan for it to end, specifically. This was a long shoot for us, and it was an enormous amount of work, and we're just amazed that we can be here." Interesting…
This post will continue to be updated as more season 2 details are released.
Source: Read Full Article