Lena Dunhams Biggest Fashion Misfires
Lena Dunham's polarizing sense of style might be seen not just as a reflection of the "Girls" creator's perspective and creative expression, but also of a culture that seems to love to hate on the sometimes problematic star. Dunham has courted a great deal of controversy since breaking into the industry with her debut feature film, "Tiny Furniture," which she wrote, directed, and starred in. Along with the many controversies stemming in and around "Girls" (via Vulture), Dunham has repeatedly been in the press apologizing for having done and said a variety of wrong and troubling things, which have given some people pause for thought concerning her, per CNN. 
Frankly, her divisive style on the red carpet is probably one of the least controversial things about her. And yet, time and again, the multi-talent's outfits have attracted an endless uproar of criticism that can sometimes tumble off into cruelty. But when it comes to fashion, a "misfire" is purely subjective. Dunham has made many missteps with her style that break basic red carpet etiquette and rules, but she often looks comfortable and confident with what she's wearing, regardless.
She's a woman who has held firm against ridicule and commentary concerning her offbeat outfit choices and occasional awkward red carpet behavior. But love or hate her style, she's certainly entertaining for it. These are Lena Dunham's biggest fashion misfires, so you can judge for yourself…
The charity event where Lena Dunham seemingly 'forgot her pants'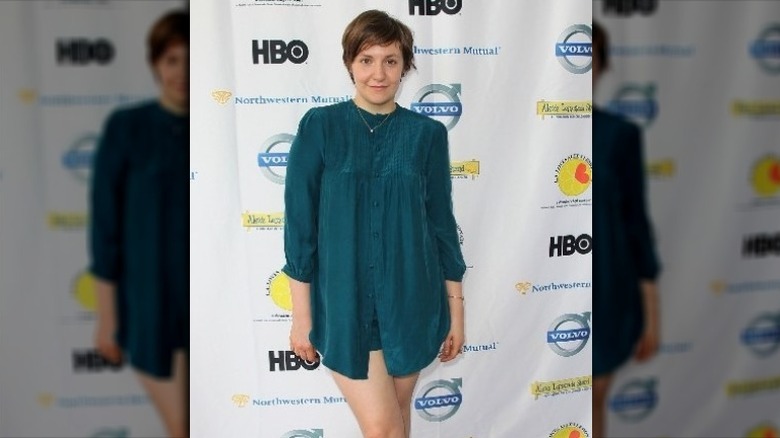 The high-end pajama look is a difficult one to receive approval for on the red carpet, and that's unfortunately especially true if a celebrity dares to be anything bigger than a size 4 (le sigh). Tabloid critics enthusiastically fought to remind Lena Dunham of this when she attended an LA Loves Alex charity event in what appeared to be a long pajama top and shorts so tiny they were barely perceptible beneath it. Outlets like Yahoo! News started a press pile-up of negative responses, which mused that Dunham "for[got] her pants." Similarly, Salon trilled, "You resent the constraints clothing imposts. We get it! We applaud you. Now please, put some pants on."
Dunham had a fair few thoughts on the criticism while in conversation with Emily Nussbaum at the New Yorker Festival, where she suggested the opinions were focused more on her body than anything else. The "Girls" star argued that women "with tiny thighs" wouldn't have gotten negative "attention" for wearing a similar look. Instead, she suggested critics were actually asking, "Why did you all make us look at your thighs?" — to which she offered a savage, steadfast response (via Fashionista).
"Get used to it," Dunham said, "because I am going to live to be 100, and I am going to show my thighs every day till I die."
Even the devil wouldn't wear this Prada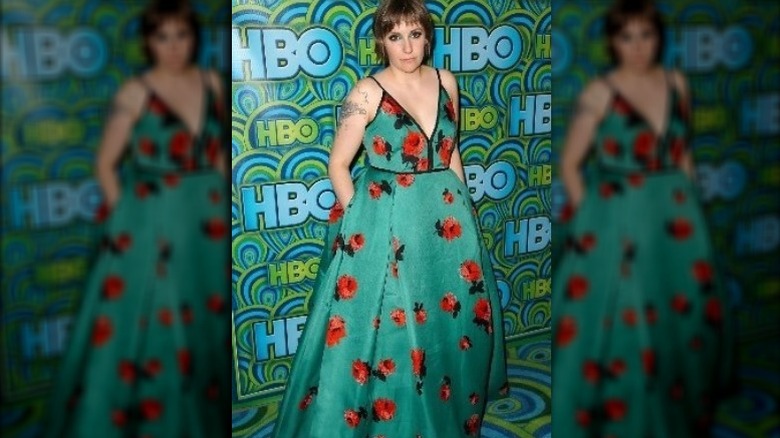 If anyone needed proof that Lena Dunham truly struggles to catch a break on the red carpet, then it's definitely the Prada dress that she wore to the 2013 Emmy Awards. On the plus side of the dress, it has pockets — which women the world over have long agreed should be a legal requirement of all frocks in this day and age. On the downside, the dress wasn't necessarily bad, it just wasn't quite right for her on many levels.
Entertainment Weekly argued that, though Dunham "look[ed] great from the waist up," the "volume of the skirt is a little too 'Gone With the Wind.'" Meanwhile, fashion bloggers Tom + Lorenzo stated that the dress made them "weep" as Dunham was clearly making an effort to be stylish, but had supposedly received poor guidance on whether this was the dress for her. "There's no shape or structure to the top, which kind of hangs on her," they wrote. "The waist sits ways too high, and the skirt is almost ridiculously full."
The finest criticism of the dress, however, potentially came from Dunham's own family. The "Girls" creator took to Twitter to share that her sibling gave "the truest compliment" when she showed them this Emmys look: "It's like the Delia's catalogue made a red carpet dress!" Harsh, but hey: facts are facts!
Lena Dunham and the cake-on-a-hot-day look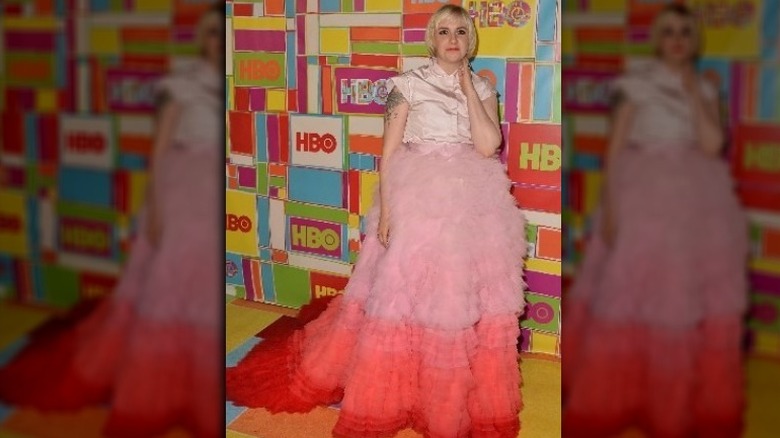 A year later, Lena Dunham was back at the 2014 Emmy Awards with yet another divisive dress: A foamy white tulle gown with pink accents that the star described as looking "like cake" and feeling "like sweatpants" on Twitter. Almost immediately, the look attracted mockery and landed the actor-writer on worst- dressed lists, like the Los Angeles Times, who "applaud[ed]" the "cotton-candy like skirt and tailored top" of the Giambattista Valli dress, but countered that Dunham "looked downright uncomfortable" in it. Meanwhile, Tom + Lorenzo snarked, "Someone left the Barbie cake out in the rain."
However, others celebrated the star for having the courage to wear something a little left-field. Entertainment Weekly suggested the cake-inspired gown was "highly caloric and gloriously messy" and praised the look for bringing "back a sense of recklessness" to the red carpet. Meanwhile, Bustle suggested that the look was "on the outer edges of the weirdness spectrum" in a way that made it the perfect ensemble for Dunham: "It's daring, unique, and fun, just like it's wearer."
At the end of the day, only Dunham's opinion of the dress truly mattered. And based on a Twitter post she made following the event, the fashion rule breaker remained smitten with the dress and thankful for the purpose it served. "This massive skirt has created boundaries for me that I'm incapable of creating for myself," she wrote. "Thank you, skirt!"
That time she was swamped by supermodels in black casuals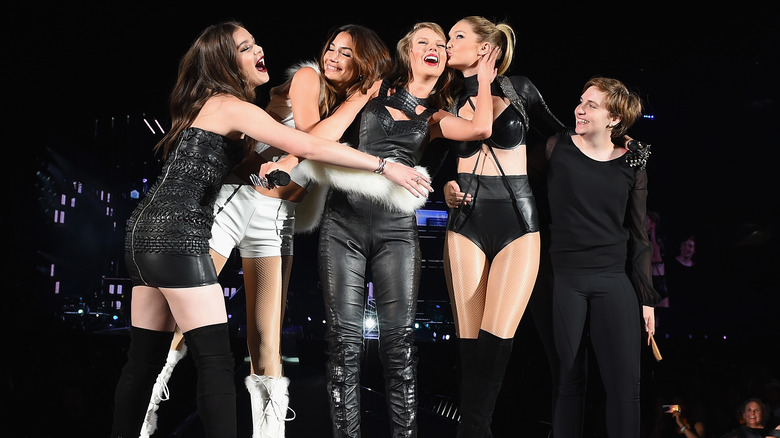 With the release of "1989," Taylor Swift was all about pushing #SquadGoals to the center of her musical ideology. The Insta-feminist message she was pushing was that female friendships are the emotional sacred cows of human existence, and must be protected and celebrated at all costs — mostly via music videos and Instagram collages. So when T-Swift brought her girl squad on stage with her during her "1989 World Tour," it wasn't surprising to see that she'd brought her sanctified pick of supermodels, actors, and musicians along with her, 'cause besties forever.
It also made for one of the most relatable awkward Lena Dunham moments ever, when the star was left craning her neck in flats as a pack of supermodels in heels cuddled up to Swift beside her. The juxtaposition was bold: Dunham's disparate size and shape was in stark contrast to the women beside her. Perhaps worse still, the supermodels were dressed up in power-outfits like they'd come straight from Planet Krypton, while Dunham wore a plain, black ensemble like she'd come straight from the office.
Dunham knew how it looked, "The minute I caught sight of myself in the Jumbotron, I knew something was very wrong," she joked to filmmaker Judd Apatow at The Film Society of Lincoln Center (via HuffPost), arguing that, despite "feel[ing] really great and fine about [her] body," standing next to a group of supermodels isn't something she'd recommend for "even the most confident" women. We're all grateful for the heads up on that one.
Lena Dunham looked sad and uncomfortable in Jonathan Cohen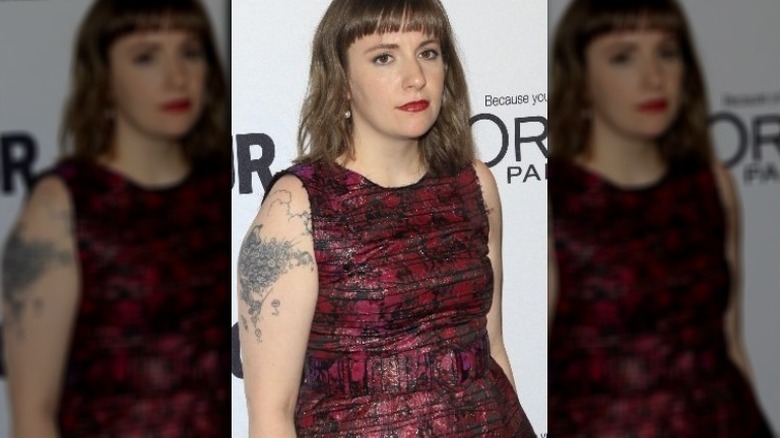 Anyone who's ever had to attend a fancy event with a bad case of the blues can attest to the fact that even the most beautiful of outfits can sometimes not shake off a foul mood. So spare a thought for Lena Dunham, who pulled off a double whammy of red carpet discomfort when she attended the 2016 Glamour Women of the Year event looking sad as heck in an ill-fitting Jonathan Cohen dress.
As Tom + Lorenzo pointed out in their critique of the dress, the look was custom-made for the star, which raised questions as to why it seemed to fit her so poorly. Did she miss a fitting? Or was there something bigger happening? "It's a shame because it's cute and it suits her," they wrote, "but the poor fit and affected posture … make it look terrible." Dunham's apparent red carpet discomfort is something that crops up a great deal in criticisms about her fashion misfires. But there may be a good reason for it.
Opening up to E! about how she takes "pleasure" from landing on worst-dressed lists, Dunham reflected on the times she hasn't looked "her best" and suggested, as the outlet put it, it was when "she was trying to dress like someone else." She explained, "I thought there was some [image] that you had to fit into. Now I understand that it doesn't matter." 
The covert sabotaging of a beautiful dress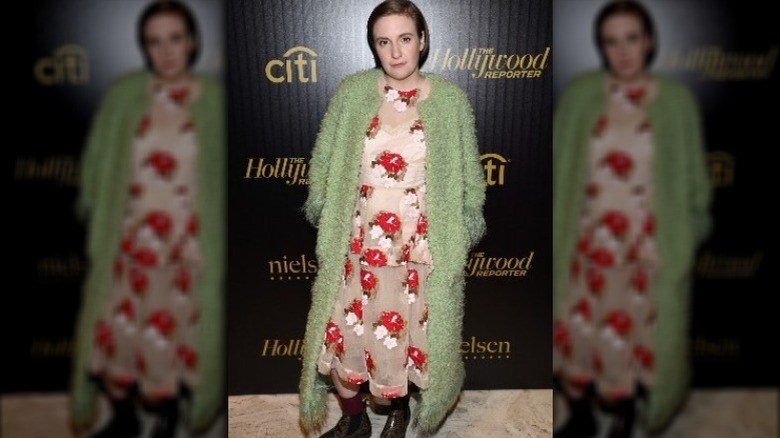 Take a deep enough look at Lena Dunham's fashion history, and you'll discover that her biggest critics return to the same complaints time and again: She apparently wears beautiful dresses very badly, and her propensity for irony sabotages her sense of style. Both issues appeared to be at play when Dunham attended The Hollywood Reporter's 35 Most Powerful People event in 2016, wearing a stunning Simon Rocha ruffle trim dress with a clashing set of accessories — a bouclé green coat and a pair of snakeskin chelsea boots with burgundy ankle socks.
As Go Fug Yourself pointed out, Dunham had worn the dress earlier in the day for her appearance on "Late Night with Seth Meyers," where the look worked. As well as looking "preppy and retro" on Dunham, it was also "the perfect length for TV." However, they argued that the "Slanket/Bathrobe proxy" coat made the whole look resemble an unpleasant "1995" slacker throwback. Meanwhile, Tom + Lorenzo derided "the Oscar the Grouch coat" and accused the TV star of picking a "conventionally pretty" dress that she "deliberately uglied … up" for the sake of irony.
Ironic, ugly, or otherwise, Dunham at least looked comfortable. And at an event celebrating powerful people, there's surely an argument to be made that there's something undeniably powerful about a woman knowing full well the judgements that will be made against her, and wearing whatever the heck she wants, anyway.
Lena Dunham and that tuxedo-no-no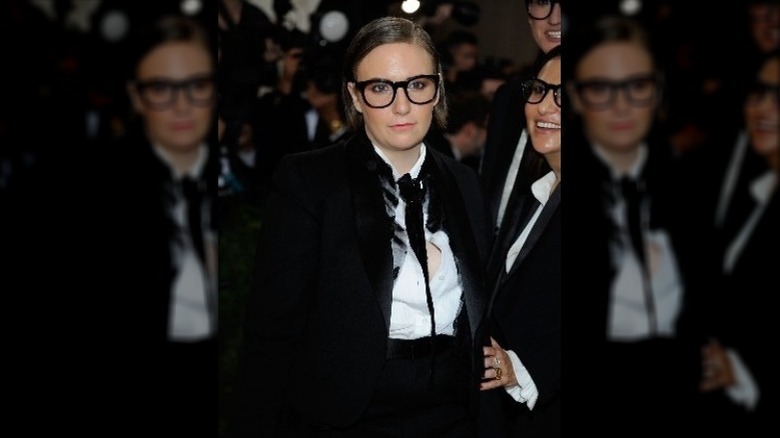 Considering Lena Dunham's unconventional and often polarizing approach to fashion, it was no surprise that she'd become a Met Gala regular. In 2016, she rocked up to the annual meeting of art and fashion at New York's Metropolitan Museum of Art, where the theme was "Manus x Machina: Fashion in an Age of Technology." Taking an odd fashion-clone approach to the exhibition theme, Dunham showed up wearing matching tuxedos and oversized glasses with her pals and collaborators, Jenni Konner and J. Crew creative director Jenna Lyons, whose brand designed the outfits (via People).
Admittedly, it wasn't her worst look, but it was hardly well-received either. A fact made all the worse when Dunham accused charismatic football star Odell Beckham Jr. — whom she was apparently sat next to — of being disgusted by her outfit. The "Tiny Furniture" filmmaker unleashed the weird rant while in conversation with Amy Schumer for Lenny Letter. "The vibe was very much like, 'Do I want to f**k it? Is it wearing a …yep, it's wearing a tuxedo.'" The two did not talk, however, per the New York Daily News. This probably why, when asked about the incident, Beckham Jr. appeared "confused" and said simply, "I don't know man, I don't have much to say about that" (via The New York Times).
Understandably, Dunham faced ferocious backlash for her comments. She later apologized on Instagram, stating that she had "projected [her] insecurities" and "made totally narcissistic assumptions" about the situation, which she regretted stating "as facts."
The Girls star's Shakespearean faux-pas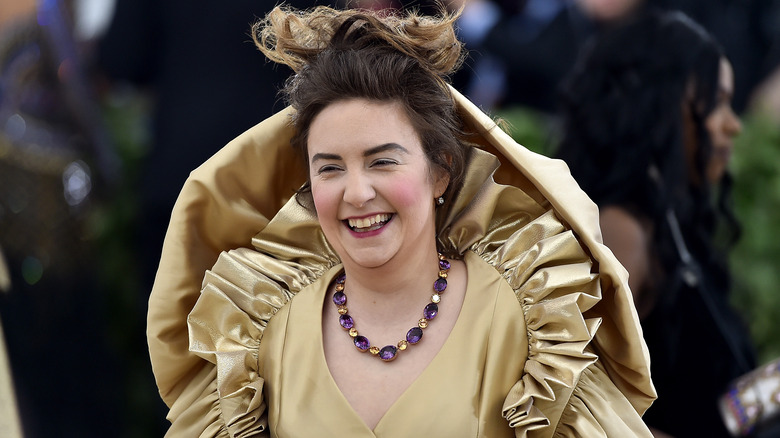 In the same Lenny Letter interview she chose to call out Odell Beckham Jr. for something that he didn't do, Lena Dunham also went off about her disdain for the Met Gala. She recounted to comedian Amy Schumer that the two were sitting across from each other and were "count[ing] down" the minutes until they "could escape" (via Page Six). Perhaps inexplicably, however, Dunham kept getting invited back and would go on to attend the Met Gala for years to come.
In 2018, this appeared to ruffle the feathers of many of Dunham's most vocal critics, who were confused as to why she was even there. "People can change?" Nylon mused, working under the assumption that "she wouldn't put herself through something she dislikes again." Meanwhile, Goat asked, "Who keeps inviting Dunham back? She clearly doesn't want to be there." The criticisms may not have been so scathing had the star made her presence worthwhile for them — which she apparently didn't.
Instead, Dunham showed up wearing an Elizabethan Bruce Bozzi dress with a full ruffled collar. The theme was "Heavenly Bodies: Fashion and the Catholic Imagination," and by all accounts, she may have taken it a little literally. Betches plonked her on the worst-dressed list for the night and had a field day, joking, "Lena looks like a washed-out extra from 'Shakespeare in Love.'" At least she had them rolling in the aisles.
Lena Dunham's emergency room couture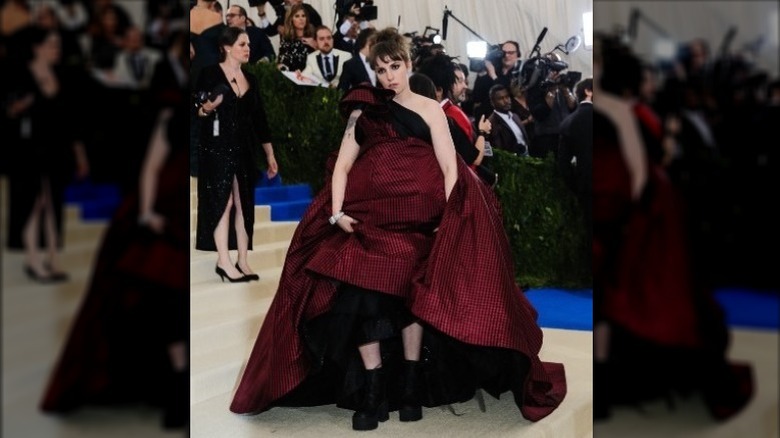 On the surface, Lena Dunham's look for the 2017 Met Gala was weirdly conventional for the typically offbeat star. Arriving in a custom Elizabeth Kennedy gingham gown, which clung a single ruffle over one shoulder, Dunham looked confident and sophisticated. Her makeup and accessories were on point, and her often off-kilter blunt bangs were replaced by a soft and romantic up-do. But naturally, there was a little something extra lurking.
While on the red carpet, Dunham hitched her dress up to reveal a pair of chunky Jeffrey Campbell lace-up boots that she described to W as being "real affordable" — not exactly two words you hear often about anything strutted out at the Met. Dunham also drew criticism from right-wing critics for showing support for Planned Parenthood with a small pin that she proudly showed off in close-up on Twitter. It wasn't the usual Met Gala ensemble, but somehow it worked.
Sadly, Dunham had to be rushed to the emergency room straight from the Met Gala (via Page Six). She explained on Instagram that she'd experienced complications due to endometriosis, via a selfie from her hospital room. Saying that she "felt beautiful" in the dress, Dunham nonetheless offered a reminder that she may have been hiding how much pain she was in on the red carpet and wrote, "We serve major face on a red carpet when we feel like lying face down would be more appropriate."
She wore the wrong thing at the right time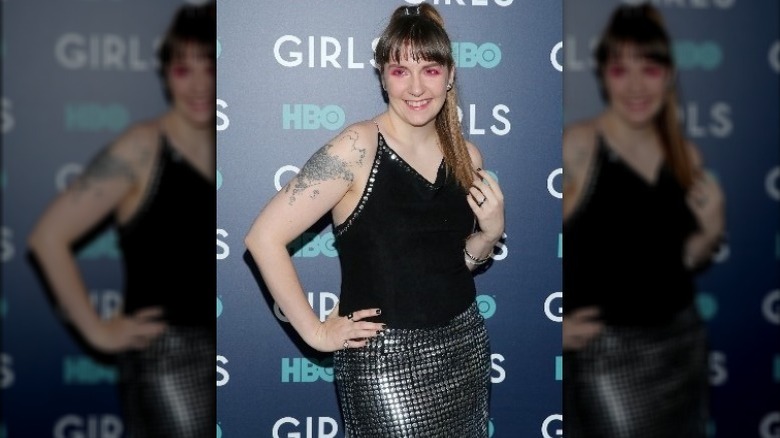 A running joke for the entirety of "Girls'" six seasons is that Lena Dunham's principle character, Hannah Horvath, would continually "[show] up wearing the wrong thing," as The Wrap once put it. So it seemed like a fitting tribute to her own character that Dunham wore something that would have made Hannah proud for the premiere of the HBO hit's final season.
Dunham wore a vintage Todd Oldham outfit from the Fall 1996 collection, which looked a little like she was about to throw shapes in some "A Night at the Roxbury"-esque clubbing antics. On Instagram, she shared that the designer had long been a "style icon" of hers and that she'd always held his ability to bring "craft and humor to fashion" in high esteem, which suggests she knew exactly the tone she was setting with the look. As had come to be the norm for Dunham, the look was all wrong for the red carpet, but it was extremely fitting for the "Girls" creator to wear for the occasion.
Go Fug Yourself thought Dunham's outfit was "better" than usual, but questioned whether the writer, actor, and director was "in a Club Kid phase" by wearing it. As her next few red carpet misfires would prove, she most certainly was channeling Club Kid looks — and she would continue to raise eyebrows because of it.
Lena Dunham's tribute to rubber fetishists
If ever there were a Met Gala theme that seemed tailor-made for Lena Dunham's affinity for playfulness and sartorial irony, then it was 2019's "Camp: Notes on Fashion." Arriving at the event with lifelong bestie and "Girls" co-star Jemima Kirke, the two wore similar ensembles designed by Christopher Kane, who they believed to be an "expert in camp," according to a W behind-the-scenes feature.
Wearing bold dresses that paid tribute to rubber and balloon fetishists, accessorized by elbow-length latex gloves, the two told the magazine they were inspired by the work of legendary drag queen Divine and "Hairspray" filmmaker John Waters. As Grazia noted, the actors "looked on point" and "nailed the Met Gala theme." Regardless, the magazine pointed out that various publications heaped onto Twitter to share cruel jibes about Dunham's presence at the event, saying such things as, "Watching Lena Dunham pose should be illegal," and "Who let her in?"
The ever-opinionated Tom + Lorenzo tried to find balance in the criticism, stating that it was better than they expected, but that the outfits were simultaneously trying too hard while also missing the mark in what appeared to be a "classic … Club Kid" look. "The shoe choices are terrible," they wrote. "All that energy up top and you go for a basic party shoe on the bottom? Thigh-highs or GTFO."
The time she wore a racy t-shirt dress at an elite event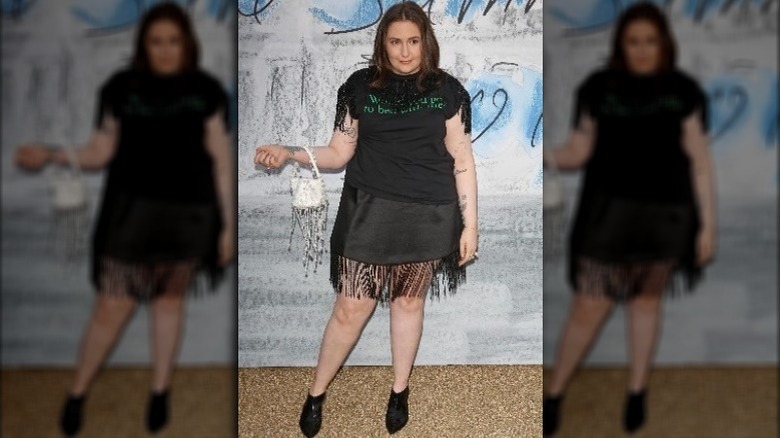 Lena Dunham's love affair with the designs of Christopher Kane would continue with a look that would garner her passive-aggressive eyerolls across the internet. Wearing a fringed black dress printed with the phrase, "Would you go to bed with me?", the dress was another camp marvel — however, this time around she wasn't wearing it to an event themed to such things. Instead, the actor-writer wore it to the glitzy 2019 Serpentine Summer Party, where stars like FKA Twigs and Felicity Jones wore tailored, high-end looks that didn't look like a customized Camden Market t-shirt referencing a '90s one-hit-wonder song lyric.
At the very least, Dunham was able to celebrate her newfound friendship with the Scottish designer via the look. According to an interview with Dazed, the two had bonded during their Met Gala collaboration, with the "Girls" star stating that they shared an "amazing connection" and that they'd "laughed so much" together. The friendship led to Dunham exhibiting a 10-piece collection of watercolor paintings in Kane's London Mayfair store in 2019, inspired by her closest female friends and "the female form in stages of intimate transition."
Phoenix rising, fashion failing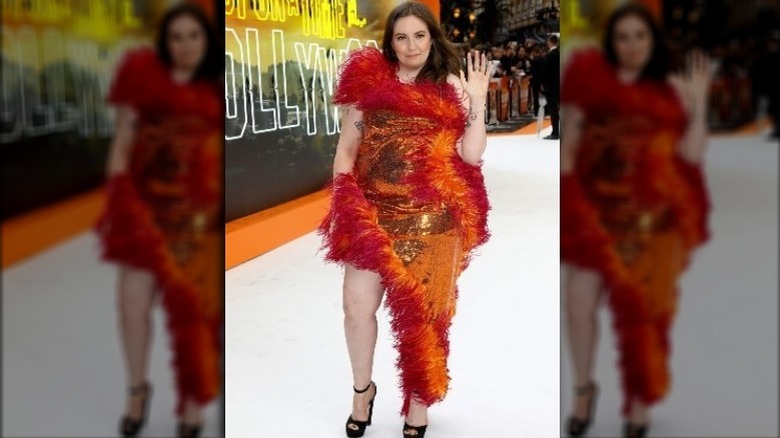 Oh boy. Where better to make a statement than at the premiere of Quentin Tarantino's latest flick? Lena Dunham caused a sensation when she wore a flashy custom gown by 16Arlington. Flush with feathers and sequins on an orange and fuchsia finish, Dunham stood out at the London premiere of "Once Upon a Time… in Hollywood." She has a small role in the film as Manson family member Catherine Share, and the star took the event as an opportunity to celebrate a new phase in her life.
On Instagram, Dunham proudly asserted that the dress was symbolic of her emerging fierce from a challenging time, and captioned a picture of herself at the premiere with, "She rose like a phoenix from the ashes, b**ches… and ended up in London." Dunham had recently moved to the UK to "[recover] from a broken heart," as she said on "The Jonathan Ross Show" (via the Daily Mail). Just a few months before the premiere, she'd also shared that she was celebrating being "one year sober" via an Instagram post, where she admitted to having "had an issue with drugs for a long time."
Regardless, some critics still didn't appreciate her look. Esquire asked, "Which muppet died so that Lena Dunham could walk the red carpet in this dress?" Meanwhile, Tom + Lorenzo trashed her "attempt at glamour" for being a "garish" dress that was also a bad shape and fit. We strongly suspect that Dunham probably couldn't have cared less — and rightly so. 
If you or anyone you know is struggling with addiction issues, help is available. Visit the Substance Abuse and Mental Health Services Administration website or contact SAMHSA's National Helpline at 1-800-662-HELP (4357).
Lena Dunham was serving thighs and darkness for 2020's end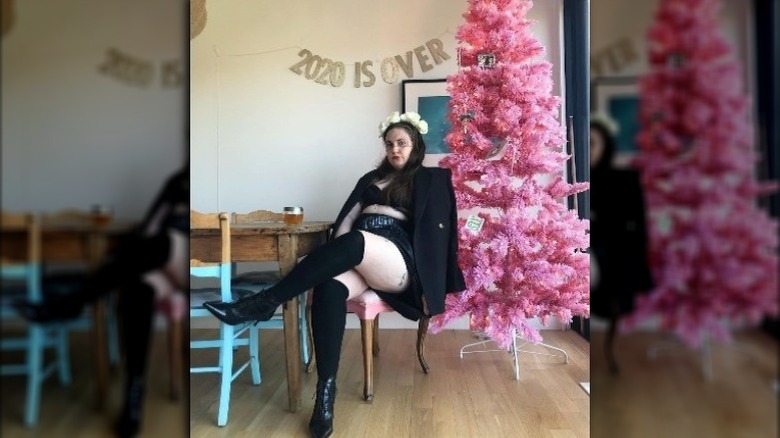 Almost 10 years after telling the world that was going to live to be 100 and show her thighs until her dying day, Lena Dunham proved that she was a woman of her word by showing off some serious thigh in an Instagram post to celebrate the end of 2020. The "Girls" star posed for the picture in an all-black ensemble, which paired a bra and thigh-high socks with a black funeral veil in a look that simultaneously gave off vibes of horniness and grief — but then, that's New Year's Eve for you. 
Like so many of Dunham's fashion looks, it was off the wall and an obvious misfire by traditional standards. But it also completely worked for her — particularly as an advocate for women of all body shapes and sizes to wear what they want and feel great for it. It's a topic that crops up time and again when discussing Dunham's often divisive looks: Is this about her body or about the outfit? And most importantly, if she feels confident and comfortable in it, then who cares?
Dunham discussed the core principles at the heart of her personal style while in conversation with PopSugar about her plus-size clothing collection for 11 Honoré in 2021. "I feel most confident when I am wearing something comfortable and casual that expresses my sense of humor," she said. By all accounts, this look — like so many others on this list — checks off every box.
Source: Read Full Article