The Real Life Partners Of The Cast Of Hacks
"Hacks" debuted on HBO Max in the spring of 2021, and not since "All in the Family" has a show so accurately and hilariously nailed the concept of a generation gap. "Watchmen," "Fargo," and "Designing Women" star Jean Smart plays Deborah Vance, a fabulously wealthy but terribly lonely and bitter stand-up comedian in the middle of a Las Vegas residency. As her attendance figures steadily decline, she's forced to take on help in the form of a co-writer: Ava (real-life stand-up comedian Hannah Einbinder, an entitled, self-loathing millennial who doesn't dig Deborah's act nor the way she does things. "Hacks" is really about the unlikely and intimate relationship that forms between two people who think they know everything there is to know about the world and themselves, and who let their guard down just a bit to allow the other person's worldview to influence and better their experience.
Since it's a show about relationships, cracking facades, and staying true to one's authentic self, here's a look at the spouses and partners of the cast of "Hacks" — the people who make the people on the show so effectively tell a story about people.
Jean Smart recently lost her husband, Richard Gilliland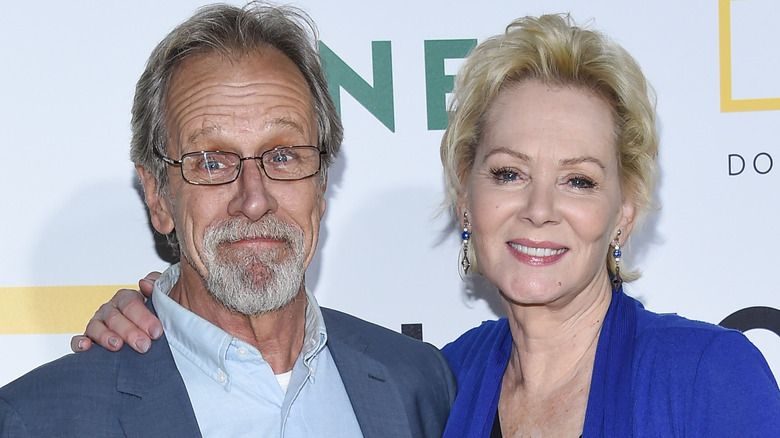 At the center of "Hacks" is the complicated Deborah Vance, portrayed by three-time Emmy winner and actor Jean Smart. Deborah is past her prime as a stand-up comic, still smarting from a broken marriage and lost professional opportunities long ago, who now gets paid a lot of money to entertain tourists in Las Vegas.
Smart's real-life husband: actor Richard Gilliland, whose credits stretch back to early '70s TV shows like "The Streets of San Francisco" and "Medical Center," and '80s movies, including "Airplane II: The Sequel." From 1986 to 1991, Gilliland played baseball scout J.D. Shackelford, the boyfriend of Mary Jo Shiveley (Annie Potts) on "Designing Women." On the set of that sitcom, he met Smart, who portrayed Charlene Frazier-Stillfield. 
"I met him when he was kissing someone else," Smart quipped to Northwest Prime Time. She sent castmate Delta Burke to inquire if Gilliland was unattached. "Naturally, Delta walked up to him and blurted, 'Jean wants to know if you're married.'" In June 1987, according to USA Today, Smart and Gilliland got married in the rose garden at the home of "Designing Women" co-star Dixie Carter. Gilliland had two children with Smart, son Connor and daughter Ani, and they often worked together, in plays like "Love Letters" and on the Fox thriller, "24" — Smart played the First Lady, and Gilliland portrayed Captain Stan Cotter.
After an illness, Gilliland sadly died in Los Angeles in March 2021. He was 71 years old.
Paul W. Downs co-created Hacks with his spouse, Lucia Aniello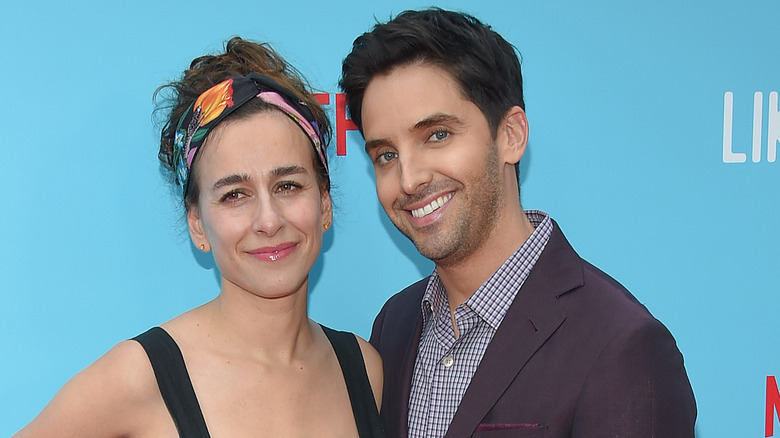 On "Hacks," Ava's only real solid connection to the world outside the isolated bubble of Las Vegas and the world of Deborah Vance is Jimmy, her Los Angeles-based agent who got her the gig and who patiently, cheerfully, and dismissively fields her many phone calls of complaint. Jimmy is portrayed by Paul W. Downs, recognizable for his role as superficial gym worker Trey on "Broad City," the Comedy Central series on which he was also a writer and producer. Another writer and producer on that show: Lucia Aniello, Downs' real-life partner (via Architectural Digest).
Downs previously let slip that he'd proposed on a 2019 episode of "Larry King Now," saying, "We always thought we would do a Goldie and Kurt thing and never get married, but we are engaged," he said in reference to Kurt Russell and Goldie Hawn's decades-long partnership. "Wow, you've heard it here first, people."
Yup, Downs and Aniello are professional partners, as well as romantic ones, working together on some of the most acclaimed, progressive, and agile comedy films and TV shows of the last decade. They wrote the bachelorette-weekend-gone-wrong film, "Rough Night," which Aniello directed, and helped create the Comedy Central miniseries, "Time Traveling Bong," of which Aniello directed every episode. Downs and Aniello created "Hacks" alongside Jen Statsy, and they've both directed — Downs two installments and Aniello six, as of this writing.
Kaitlin Olson is married to her It's Always Sunny in Philadelphia co-star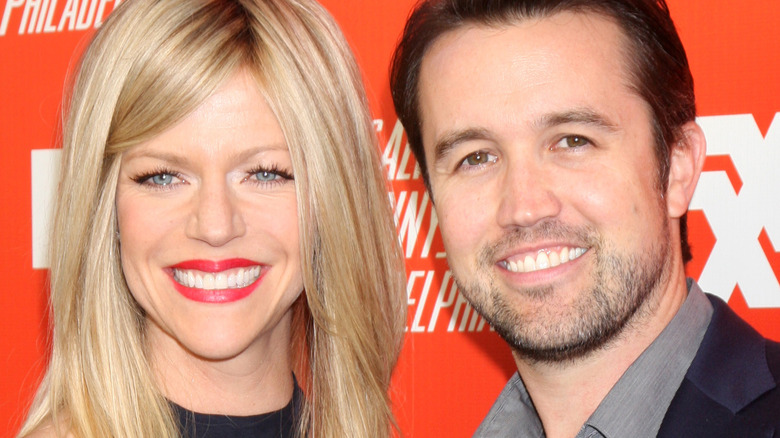 "Hacks'" lead character Ava is a self-made success who ruined her life, just barely scraping by and living life on her own terms whenever possible. Writers clearly inserted the recurring character of D.J. as a contrast to Ava: She's the adult daughter of wildly wealthy comic Deborah Vance, who is pushing 40 but is still openly mooching off of her mother, and who hasn't done much with her privileged life. She's portrayed with snotty relish by Kaitlin Olson, one of the most visible comic actors of the 2000s, starring as another moocher on the Fox comedy, "The Mick," as well as the voice of reason/deluded loser, "Sweet" Dee Reynolds, on the enduring "It's Always Sunny in Philadelphia."
That latter show, now the longest-running live-action sitcom in American TV history, was co-created by Rob McElhenney, Olson's husband since 2008, who also co-stars as wannabe tough guy Mac. While cast member Glenn Howerton (who plays Dennis Reynolds) is also a credited co-creator, "It's Always Sunny in Philadelphia" was McElehnney's baby. "He really just has a vision and he's just a wonderful boss and he's a collaborator," Olson said of McElhenney, whom she found herself attracted to not long after their show debuted in 2005. Nevertheless, they kept their relationship secret from the cast and crew at first, according to Philly Voice. 
Olson and McElhenney went on to welcome two children together, while McElhenney also finds the time to act on another show he co-created, the AppleTV+ workplace comedy, "Mythic Quest."
Christopher McDonald and Lupe McDonald have been married for decades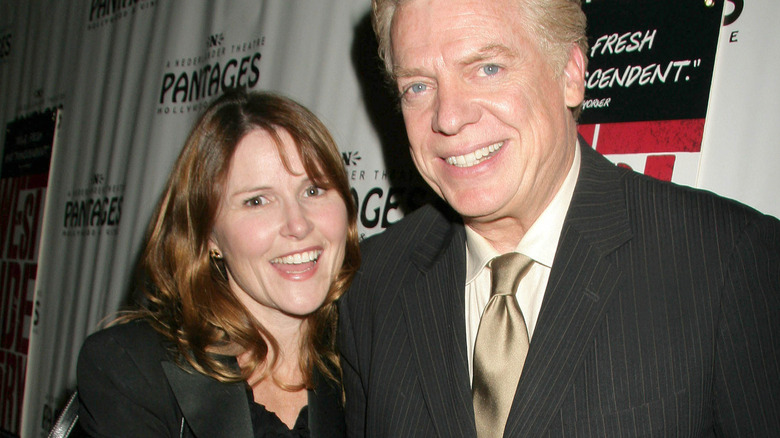 Christopher McDonald is among Hollywood's quintessential character actors. Audiences may not know his name, but they know his face, because he often plays a smug, smarmy, loathsome villain who takes great pleasure in making life difficult for the film or television series' protagonist. Among the notable bad guys on McDonald's resume: horrible husband Darryl in "Thelma and Louise," odious pro golfer Shooter McGavin in "Happy Gilmore," and Deborah Vance's adversarial casino boss, Marty, on "Hacks."
According to the Los Angeles Times, McDonald was engaged to his future "Thelma and Louise" co-star, Geena Davis, in the mid-1980s, until she met Jeff Goldblum on the set of "Transylvania 6-5000" and dumped him. He got over it, though, and in 1989 met actor Lupe Gidley when they were both acting in plays for New Mexico Repertory. They married a few years later, and in 1991, Gidley (now known professionally as Lupe McDonald) gave birth to the first of the couple's four children. 
After her first-onscreen appearance in Billy Joel's 1989 video for "We Didn't Start the Fire," Lupe has acted in films and TV only occasionally, playing "Mom" in the Daft Punk video "The Prime Time of Your Life" and in the unsold 2015 pilot for the family drama, "Finding Out."
Hacks star Lorenza Izzo used to be married to director Eli Roth
Lorenza Izzo appears briefly in just three episodes of the first season of "Hacks," but her character, Ruby, looms large over the series. Part of the reason why TV writer Ava decamps to Las Vegas to work for Deborah Vance is to get some distance from the mess she made of things in Los Angeles, which includes a soured relationship with Ruby, a woman with whom she's still in love and very much misses. Izzo, an actor of Chilean origin, has appeared in a handful of high-profile English-language projects in the last decade, including "Once Upon a Time… In Hollywood" and "Penny Dreadful: City of Angels." Izzo also showed up in "The Stranger," "The House with a Clock in Its Walls," and "Knock Knock," all of which sprung forth from the mind of horror auteur Eli Roth, to whom she was once married. 
According to People, Izzo and Roth wed on a beach in Chile in November 2014, and announced their split in July 2018 via a joint statement published on their respective Instagram pages in Spanish and English. "We've had an incredible journey together, we love each other very much, and will remain the best of friends," they said, jokingly adding that they were "separating so [they] don't f**king kill each other." 
Roth is likely best known for directing "Cabin Fever" and "Hostel" while also occasionally acting, playing a Nazi-killing soldier in "Inglourious Basterds," for example.
Source: Read Full Article