The Truth About Shemar Moore
With a career spanning four decades, Shemar Moore is no stranger to television viewers. As the actor's CBS bio pointed out, he first came to national exposure on "The Young and the Restless," portraying Malcolm Winters before eventually landing the role that would come to define him for TV viewers: FBI Special Agent Derek Morgan on hit CBS procedural crime drama "Criminal Minds." 
Moore left "Criminal Minds" in 2017 in order to headline his own series on the same network, "S.W.A.T." As Los Angeles S.W.A.T. team leader Daniel "Hondo" Harrelson, Moore scored yet another television hit in a relentlessly successful Hollywood career that shows no signs of slowing down. However, shifting from a supporting role in "Criminal Minds" to starring in "S.W.A.T." didn't come without some serious effort. "I have had to step up my intensity, emotional range and leadership capabilities because I am the lead of the show and also the leader of the S.W.A.T. team, so there's a lot more responsibility and a lot more pressure involved as an actor and as a character," Moore declared in an interview with STACK. "But I'm having a lot of fun rising to the challenge, and the action is so thrilling and the stunts so fun to do that we are like big kids playing cops and robbers."
There's a lot to learn about this wildly popular TV star so read on to discover the truth about Shemar Moore.
His first language was Danish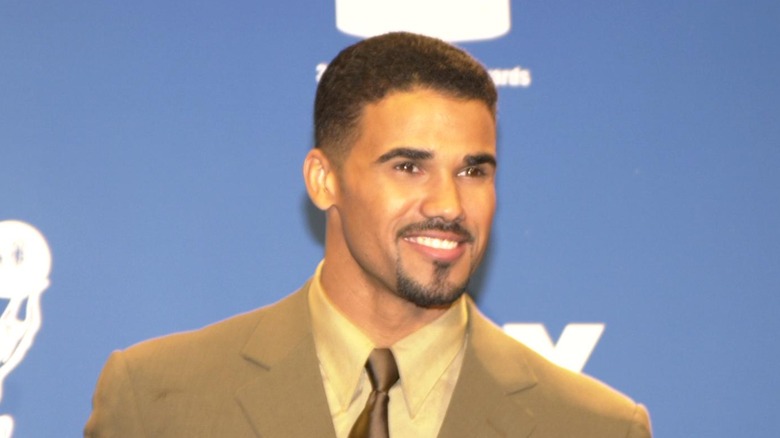 It's not hyperbole to state that Shemar Moore had an unorthodox childhood. As he explained in a 2013 "Shemar Moore Unplugged" interview, he was born in Oakland, California, but only lived there for about half of his first year of life. When his mixed-raced parents (his mother is white, his father Black) split up when he was still an infant, his mother was able to secure a teaching job in Europe. "So at six months old I left the country, and I lived overseas until I was six-and-a-half years old," said Moore. The first country they lived in was Denmark, where the future star spent the next three years. 
"Technically, my first language was Danish," said Moore, admitting that as the years have passed he's retained next to none of his Danish language skills. "I don't speak a word of it today," he quipped, but clarified that he did remember a single Danish word: flytte, which translates into English as to move or relocate. 
As for why that's the sole Danish word to remain stuck in his memory, Moore theorized it was because "my mother was kicking my backside and trying to get me to do this and do that, and she was always saying, "Flytte, flytte, flytte Shemar, flytte' — for whatever reason I remember the word flytte," he recalled. 
He was bullied for being biracial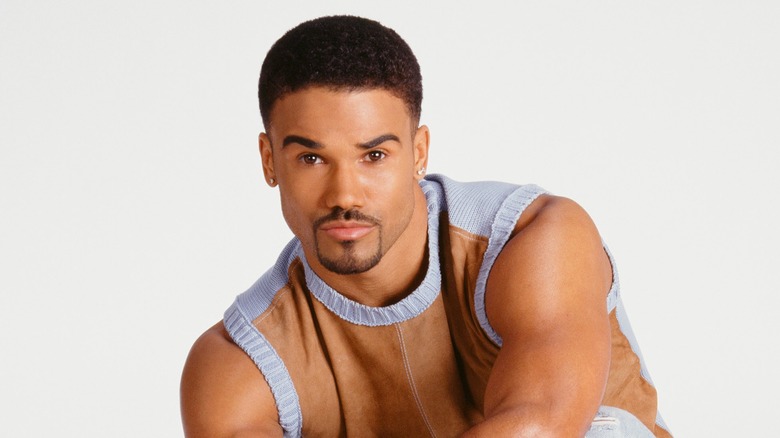 Spending his early years in foreign countries proved to be a formative time for young Shemar Moore. Moving back to the land of his birth, however, was not without complications. "I grew up outside of the country, first in Denmark, then Bahrain and Ghana. When my mother moved us back, it was a very difficult transition," Moore admitted in an interview with BET, revealing it wasn't until he'd returned to the U.S. that he first experienced racism. "I still remember the first time somebody called me n*****," he recalled. "I was six, and I remember how different everyone made me feel when I was in school. 'Why does your hair look like that, why is your skin that color, how come your mom is white, how can you be cousins with so-and-so?'"
However, that childhood bullying also taught Moore an important lesson. Whenever he found himself under attack, he realized that he had the ability and the wherewithal to respond in kind. "That's how I learned I was good at baseball," he recalled, "because kids would chase me after school, so I started picking up rocks and throwing them to fight back."
Before becoming an actor, he was on track to become a pro athlete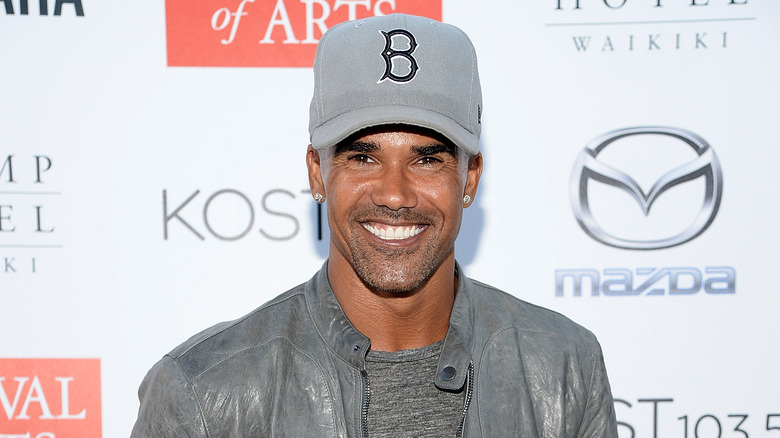 Shemar Moore isn't one of those Hollywood types who grew up obsessed with acting and becoming a star — it just sort of turned out that way. "I could describe my career in two words: who knew," Moore quipped in an interview with BET. As he told The Boston Globe, he could throw a 93-mile-per-hour fastball and wound up being drafted by the Baltimore Orioles and the Boston Red Sox. That, however, was when his mother — a professional educator — stepped in and put the kibosh on a pro sports career right out of high school. "He was not going to complete college without having at least one degree," the actor's mother, Marilyn Wilson Moore, told the outlet.
Moore was able to heed his mother's advice to get an education while pursuing his MLB dreams when he was accepted to Santa Clara University on a baseball scholarship. "I was on the path to becoming a professional baseball player, but I got injured in college," he told BET. 
It was at this point, he revealed to The Boston Globe, that he began modeling. "Little by little, I was making strides in the model-commercial side," he said. After landing gigs modeling for the catalogs of such retailers as Macy's, Sears, and International Male, he began leaning on his theater training as he set his sights on transitioning to acting.
He spent years on a beloved soap opera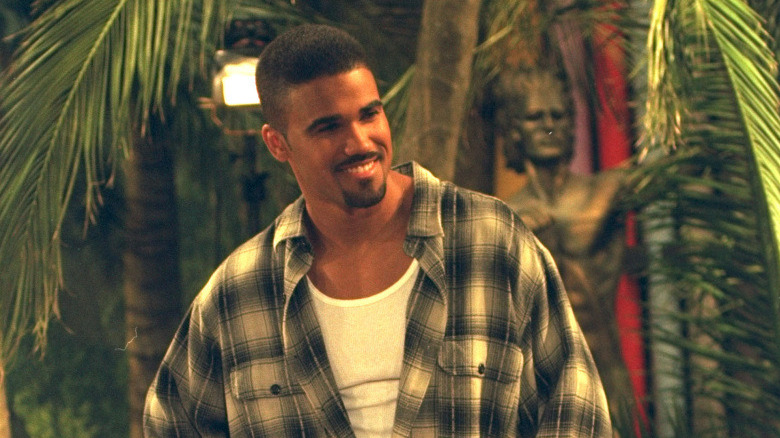 When Shemar Moore decided to set his sights on becoming an actor, he headed for Hollywood. "When I decided to move out to L.A. to try acting, nobody was betting on me, not even my family," he told BET. It didn't take Moore long to make an impact. In 1994, Moore's big break arrived when his modeling work led him to be discovered by a scout from "The Young and the Restless," cast as Malcolm Winters. As The Boston Globe noted, he stayed with the hit soap opera until 2002, winning a Daytime Emmy along the way.
When he exited "The Young and the Restless," he revealed in an interview with The Baltimore Sun, he was more than ready for a change. "I left the show after seven-and a-half years," he said. "I did it 50 weeks out of the year. I felt like I did all I could with it. Although, they didn't find the body [his character was offed in a car accident], so never say never. Malcolm may return."
It took more than a decade, but his prediction eventually came to pass when Moore returned to "Y&R" for a 2014 guest-starring stint. "There is not a 20-year career without Malcolm Winters," Moore told People, pointing out the importance of his soap role in his future career. "This is my second family. I don't take any of it for granted. I've been wanting to do this since I left."
Halle Berry was his first serious love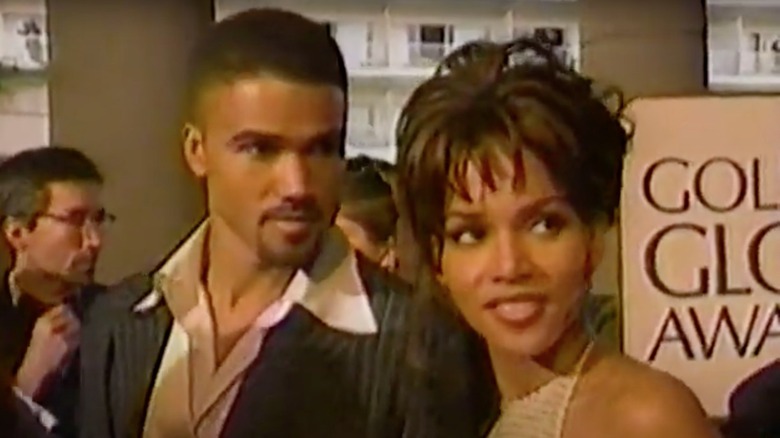 While he's dated a lot of women over the years, Halle Berry was Shemar Moore's first serious love. In the late 1990s, Moore began dating Halle Berry, who was then at the tail end of a high-profile divorce from baseball player David Justice. 
"She was the first woman to really knock my socks off. I fell hard for Halle," admitted Moore in a 2013 interview with BET. While their past romance is now common knowledge, he recalled that they "had to keep it hush-hush at the time because she was fresh off her divorce from David Justice." 
The two eventually emerged out in the open as a full-fledged couple when he accompanied her to the 1997 Golden Globe Awards, recalled PopSugar. "I'm still grateful for that relationship. I was smitten not just because of who she was, but because we were so similar in so many ways," he said, explaining they bonded over both being biracial, with Berry "kind of going through the same things I was in Hollywood." Looking back, he told BET that his relationship with Berry "made me much stronger as a man, and knowing the caliber of woman I want in the future."
A role in a music video led to a romance with Toni Braxton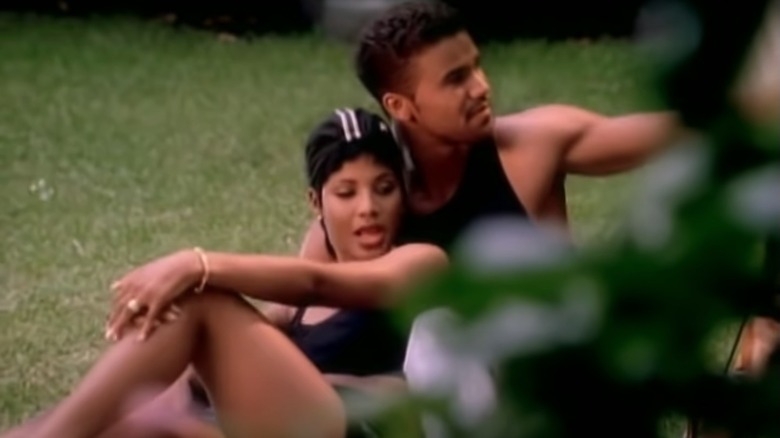 A few years before his relationship with Halle Berry, Shemar Moore met singer Toni Braxton when he was cast in the music video for her 1993 hit "How Many Ways." 
Describing his romance to BET as "[his] first Hollywood relationship," Moore recounted how playing Braxton's beau in the video evolved, albeit briefly, into the real thing. "I was a baby, I did not know s**t. I had just graduated from college, I had no money and I was on 'Young and the Restless.' She called my agent when she was shooting a video in Miami, and it just went from there. I was like the little kid who found the pot of gold at the end of the rainbow. It was a wild ride with Toni. She would never sing for me, though. That always bothered me." 
Comparing his experiences with Braxton and Berry, Moore mused that "Toni was a fun ride, but Halle was a necessary experience." Braxton was reportedly none too thrilled with her ex's comment. As an "insider" told the National Enquirer (via BET), "Toni was very upset over Shemar's remarks. Shemar made it sound like Toni was chasing him just to have sex." Moore later responded to the backlash, telling BET, "my time with Toni, it was nice, but it was very brief. So if anybody's offended by anything I said… that wasn't my agenda."
He was part of a history-making moment at the Daytime Emmys
During the years that Shemar Moore spent as a soap opera heartthrob on "The Young and the Restless," he managed to carve out a niche for himself as a fan-favorite. However, in the annals of soap lore, he'll always be famous for being part of one of the most memorable moments in soap history — even though it didn't have much to do with him at all. 
In 1999, Moore was among the presenters at the Daytime Emmy Awards, in a very contentious category: Outstanding Lead Actress. As any soap fans worth their salt already know, that was the year that "All My Children" star Susan Lucci finally won her first Emmy after 19 consecutive nominations and zero wins. After introducing Lucci and the other five nominees, Moore tore open the envelope and shouted, "The streak is over! Susan Lucci!" 
According to Lucci, she initially misunderstood what the presenter had just announced. "When Shemar Moore called out my name, and he was so adorable and he called out, 'The streak is over!' we were in [Madison Square Garden], as I said, I thought he was announcing some playoff scores," she said in an interview with Fox News Magazine. "I thought, 'Isn't that nice, he's keeping everybody up to speed.'"
His signature catchphrase on Criminal Minds was an off-the-cuff ad-lib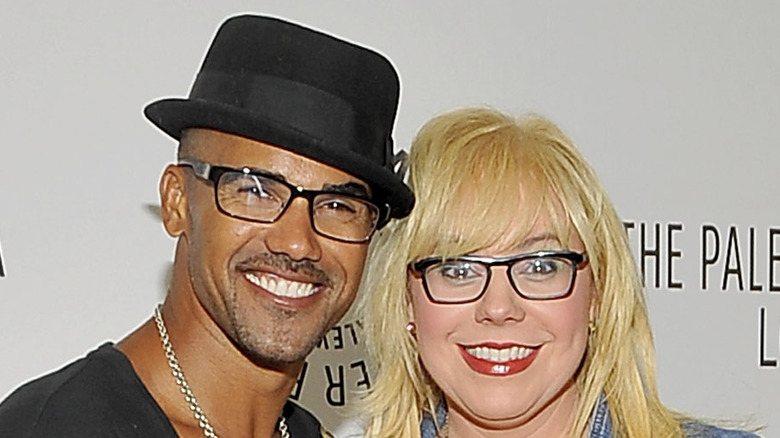 When Shemar Moore was part of the "Criminal Minds" cast, his character, FBI Special Agent Derek Morgan, had a special bond with technical analyst Penelope Garcia, played by Kirsten Vangsness. As fans of the hit procedural crime drama will recall, Morgan had an affectionate nickname for Garcia: baby girl. What viewers may not know, however, is that the line was ad-libbed by Moore on the set before becoming an indelible part of "Criminal Minds." 
It was early on in the first season when he found himself "in a goofy mood" while shooting a scene with Vangsness. As Moore recounted in an Instagram interview, when the director called "action," Moore said, "Hey baby girl, I need you to work your magic" — a line that was not in the script. "I said something and I just completely riffed it," Moore said, "and I was waiting for the producers or the director to be like. 'OK, alright, I don't know what that was, but we are going to go back the other way.' And then they ended up keeping in it in the episode."
In a subsequent interview with TV Guide, Moore noted his phrase quickly took off with fans. However, he explained, "once 'baby girl' became a thing," he was very cognizant about using the phrase sparingly and not beating it into the ground. "I didn't want it to become overdone," he said.
He admitted to being 'in denial' after his mother's MS diagnosis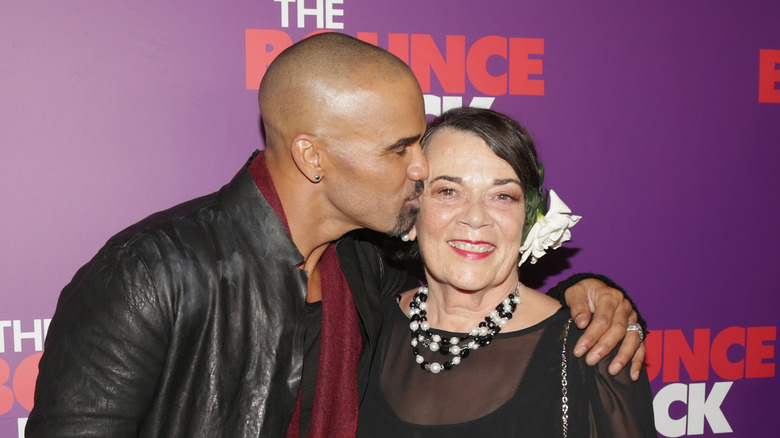 In 2015, Shemar Moore went public to reveal that his mother was battling multiple sclerosis. When his mom was first diagnosed with MS in 1999, he told People, his first instinct was to downplay the reality of the situation. "I went through the whole denial thing for a couple of years," he admitted. "I was like, 'Take a couple aspirin and go to sleep… You'll be fine. You'll be fine. Go get a massage and slow down.'"
However, as the years passed and he witnessed the effects of the disease on her — and recognized his own powerlessness in helping her — he came to an epiphany. "I just had to check myself and say, 'Listen, she's scared and asking for help, so let's help her turn in the right direction,'" he said. "I've just been learning about the meds and learning about how it affects different people," he explained. "Five years ago, we thought she was going to be wheelchair-bound. Then, by just doing some homework and really seeing what MS was all about, we learned that MS is affecting her, but not entirely. We were able to be specific about the MS and other factors in her life."
Moore went on to create his own Baby Girl clothing line, inspired by his famed "Criminal Minds" catchphrase," with part of the proceeds donated to the National MS Society to fund research.
He candidly addressed rumors about his sexuality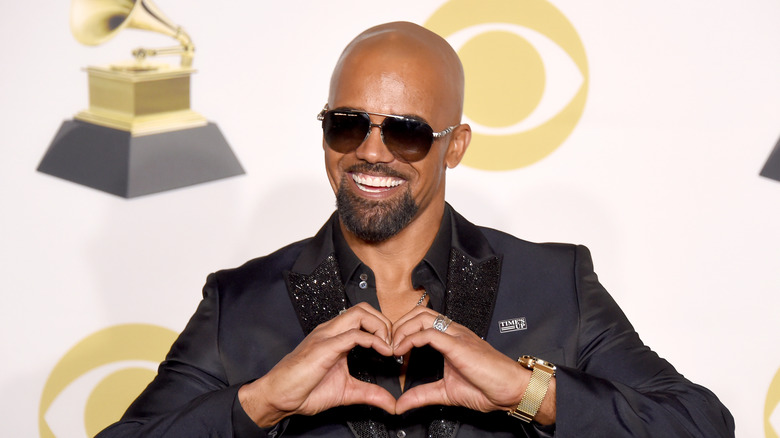 Somewhere during the course of his career, rumors began to circulate that Shemar Moore was a closeted gay man. He set the record straight, so to speak, when confronted by those rumors in an interview with BET. "I just think it's all silly. If you're gay, you're gay," he said. "I'm not, and I know that and I'm very comfortable with who I am and I love women. I've dated plenty of them."
He asserted his own sexuality even further by issuing a challenge. "If you think I'm gay, send your girlfriend over to my house for the weekend and see what happens," he boasted. "For real. You can call that arrogant if you want to. I just call it confident. You can call me whatever you want, but you don't know me."
He theorized that the rumors may have started because he has a large gay fanbase, with whom he has no problem engaging. "I have fans that are gay, men that come up to me, and they're inspired by me, or they like me as an entertainer, and when they want to give me a hug or take pictures with me, what, am I supposed to not put my arm around them or stand next to them, and if the man next to me in the picture is gay, that makes me gay?" he said. "That's just simpleminded ignorance, and I don't play that."
His fans flipped out when they discovered he used to host Soul Train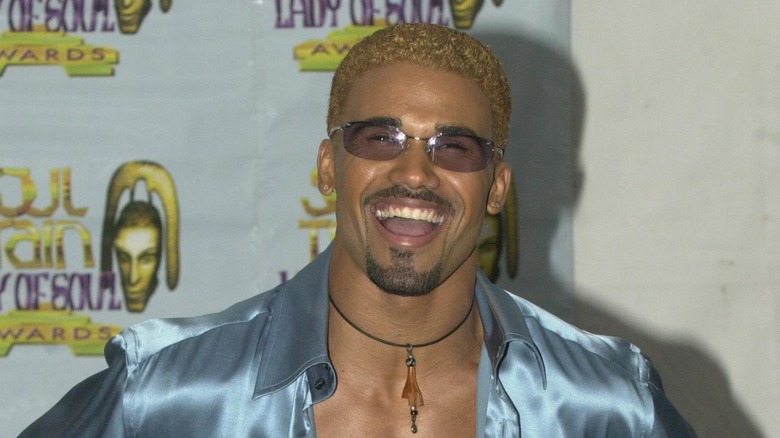 One of the more surprising discoveries gleaned from scanning Shemar Moore's list of screen credits on IMDb is that he hosted "Soul Train" from 2000 until 2003. After the 1993 exit of original host Don Cornelius, who had hosted "the hippest trip in America" since 1971, Mystro Clark took over for the next few years until being replaced by Moore. 
Since then, of course, Moore has enjoyed a wildly successful career as a television actor as star of "The Young & the Restless," "Criminal Minds," and "S.W.A.T." — which has led the public to completely forget about his "Soul Train" past. "Now you know how the sayin' go," Moore told viewers in a resurfaced "Soul Train" clip. "Time sure does fly when you're having a funky good ol' time."
When fans discovered that Moore had been the host of "Soul Train," they began to flood the internet with clips and memes, taking to social media en masse to share their collective bewilderment. "I was today years old when I learned Shemar Moore was on 'Soul Train,'" wrote one Twitter user. "Shemar Moore hosting 'Soul Train' will forever be funny to me," tweeted another. A different Twitter user, however, put it in context by writing, "Y'all discover Shemar Moore & 'Soul Train' every 3 years."
He's got a passion for interior design, and decorated his own home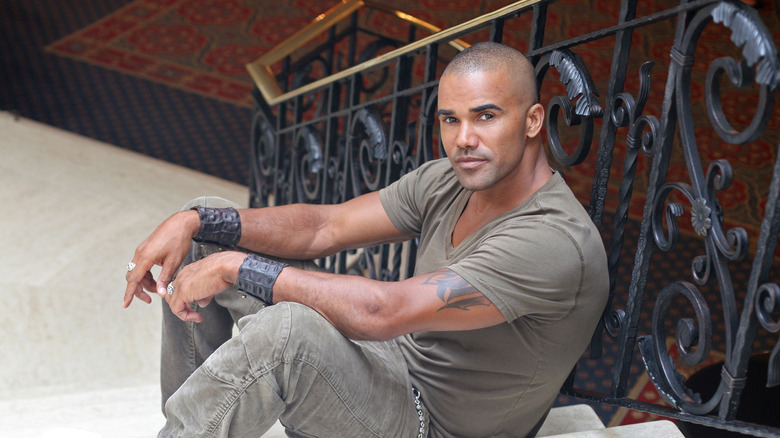 One thing that even Shemar Moore's most ardent fans may not know is that he's intensely interested in interior design. In a 2013 "A to Z" interview with Los Angeles Magazine, Moore opened up about his love of interior decor. "I've been into interior decorating on and off throughout my life," he revealed. "People joke that I'm Martha Stewart's brother from another mother."
As he told the magazine, one of his go-to furniture stores in Los Angeles is Terra Nova Designs, from which he picked up "a lot of [his] wood pieces" in his home, including armoires, coffee tables, and even his dining room table. Moore also insisted that he's no dilettante when it comes to interior design. "I did my house from head to toe," he boasted, revealing that he also "remodeled and redecorated" his mother's home. Moore described his design style as being "sort of a Spanish-y Moroccan vibe," with "no bright colors."
He's also not a fan of white-hued walls. "I don't like white; white is a dentist's office," Moore told People, explaining his goal is to achieve a "cozy" feel.
He refused to be humble about making People's Sexiest Man Alive issue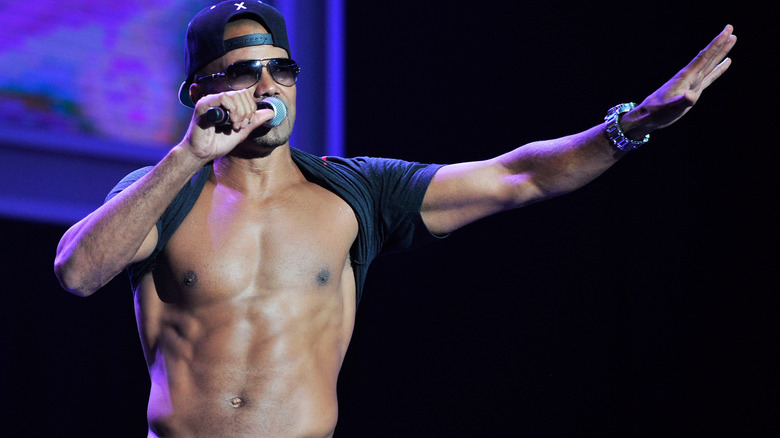 Back in 2017, Shemar Moore was honored by being featured in People magazine's annual Sexiest Man Alive issue. While Moore wasn't the Sexiest Man Alive — that year it was deemed to be Blake Shelton — he was proud just to be included. 
Moore made that clear when he paid a visit to "The Late Late Show with James Corden," where the host displayed the photo in the magazine featuring Moore's chiseled, shirtless physique. "My mama said, I only made one baby, but I sure made a pretty baby,'" Moore joked. Asked if he was "happy with your placement in the magazine," Moore insisted he was. "Just to be in there," he declared. "I'm 47 years old, I'm trying to keep my Black from cracking and they put me in the magazine?" While the traditional move is usually to downplay the tribute to one's sexiness, Moore took the exact opposite strategy. "I'm supposed to be humble about it?" he said. "Hell no! I'm in the magazine, go get it! I still got my sexy on!"
That wasn't Moore's first time being singled out by a magazine for his sexiest. In 2012, Essence declared him to be its Sexiest Man of the Year," gushing that "no matter what Shemar Moore did this year, he looked amazing doing it."
Shemar Moore has made big bucks as a TV star
Having been steadily employed as a TV actor since the 1990s, Shemar Moore has amassed a fortune that Celebrity Net Worth estimated at $22 million. During his years on "Criminal Minds," reported the Denver Urban Spectrum, he earned $175,000 per episode; while his salary on "S.W.A.T." hasn't been publicly revealed, he's also a producer on the show, which would certainly result in an additional producer's fee. He's also ventured into movie producing, serving as producer and star of the 2016 feature "The Bounce Back." In 2018, reported Deadline, Moore was signed by a new agency, UTA, in what was described as "a competitive situation," while he and producing partner Ray Brown reportedly had a "first-look deal" with CBS and Sony Television. 
Having made all that money, Moore decided to spend some of it in 2020 when he purchased a $5.8-million, 9,055-square-foot mansion described by Variety as "brand-spanking-new and decadently appointed." Before pulling the trigger, Moore told People, he needed the approval of mom Marilyn Wilson Moore. "I brought my mom to the house," he recalled. "She looked around and then she said, 'This is my son's home. I'm proud of you, Boo. And I hope it gives you a great life.'" 
Moore's purchase of the home proved to be bittersweet when his mom died just a few days later; as he admitted, his new home was "beautiful, but it's empty without her. There's always going to be that void."
Source: Read Full Article