'The View': Which Current Host Do Fans Hate the Most?
You may have not have realized this, but The View has been a part of millions of Americans lives for almost 22 years now. Known as being Barbara Walters' brainchild, the show is known for touching on sensitive topics and having a panel of tell-it-like-it-is women that give their opinions on various topics from presidential elections to celebrity marriages, and much more. 
In over two decades the show has seen several different co-hosts and guest co-hosts. This season the panel of women includes Megan McCain, Whoopi Goldberg, Joy Behar, Sunny Hostin, Ana Navarro, and Abby Huntsman.
So, out of these seven co-hosts, which one is the most hated? Here is what we know about how fans of The View feel about the current hosts.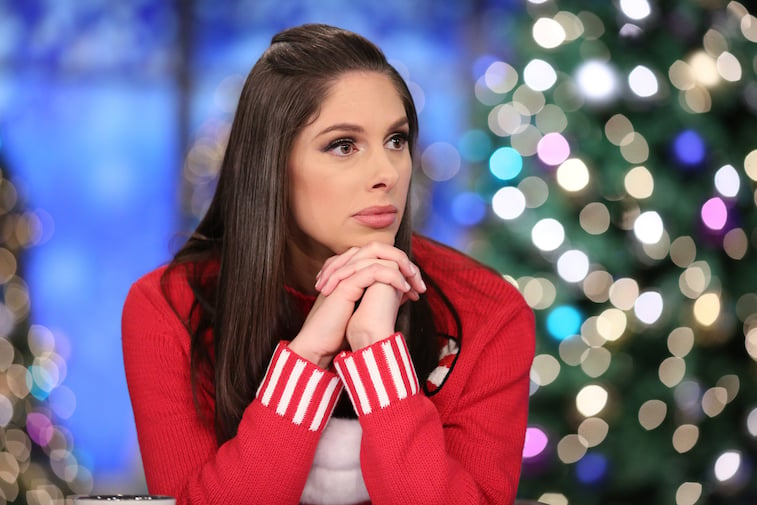 Abby Huntsman fans were very upset when they heard that she was joining 'The View'
Last year, when the former Fox News anchor, Abby Huntsman announced on her social media pages that she would be joining The View, long-time fans of hers were not happy. The View is known mostly for its liberal-based opinions, so when Abby's conservative fans heard that she would be sitting at the table with several left-winged women, they were quick to let her know just how big of a mistake that they thought she was making.
Some viewers had said that she was making "a deal with the devil," while others simply called her a "sell out." One left a comment of on Abby's Instagram post that read: "Why in the world would you work on a show like this. VERY DISAPPOINTED."
While many conservative fans have said that they are disappointed in her, Abby has actually stated that she does not label herself as a "conservative."
Some of Abby's fans may not have liked the fact that she joined The View, however, fans of the show seem to like the new dynamic that she brings to the table. She may not be the most-loved host on the panel, but she is definitely not the most hated either.
Which current host on 'The View' do fans hate the most?
All of the ladies on The View seem to be well-received by fans, except for one: Meghan McCain. Meghan's father is the late Arizona Senator, John McCain. Since joining the show back in 2017, Meghan has been receiving a lot of criticism and negative comments about her "poor attitude" on the show.
When she joined the show, everyone knew that she was a strong conservative, however, that didn't bother fans too much because they seem to like the show better when it has a wide range of views that represent both sides of the political arena. It was her rude attitude towards the other co-hosts that fans seem to have a hard time dealing with.
Fans don't mind that she has a different opinion than the rest of the panel, but what they do have a problem with is the fact that she is so rude to anyone who disagrees with her.
During her time on the show, she has yelled at many of the guests, interrupted everyone on the panel, and has repeatedly picked fights with a fan-favorite co-host, Joy Bahar.
Drama between 'The View' hosts
Joy and Meghan's most recent argument was over border security. The two women obviously had two different opinions about the topic. During the show, Joy and Meghan had argued back and forth for a while. Meghan had continuously interrupted Joy and would barely let her get a word in. When Joy had finally had enough, she told Meghan, "I listened to you, let me just finish."
Meghan viciously shot back, "Yeah, part of your job is to listen to me."
The audience was visibly stunned by her comment and you could hear the crowd gasping in utter disbelief that Meghan could say something so disrespectful to such a beloved co-host.
Whoopi Goldberg quickly stepped in and calmed the situation, but the damage had already been done and the audience was finished listening to anything Meghan had to say.
Shortly after the show aired, hundreds of fans took to social media and voice their opinion about Meghan. Many viewers had said that they would not watch the show again until she was fired. They had gotten pretty used to seeing Meghan being disrespectful, but they felt that this time, Meghan had crossed the line.
So far, the show has not officially let Meghan McCain go, but if they ever decide to do so, fans of the show from all over the country will no doubt be overjoyed.
Source: Read Full Article