Tori Spellings New Look Sparks Fan Frenzy
Tori Spelling's transformation from a teen entertainment titan of the '90s into a reality TV star was quite a journey. Along the way, the "Beverly Hills, 90210" star fused the sitcom and reality show formats for her 2006 scripted VH1 series "So Notorious," which saw her playing an alternate version of herself. It aired in the wake of her extramarital affair with her "Mind Over Murder" co-star Dean McDermott, whom she later married.
Despite the negative headlines about the scandalous manner in which her marriage started, Spelling fully embraced her status as a tabloid darling, as she has never shied away from speaking candidly about her "Messyness." During a 2008 Redbook interview, she explained how she learned to stop worrying about her critics at a young age. "As a teenager, I'd get upset about what the magazines said about me; it hurts when you read that you're ugly," she said (via CBS News). "But I've worked through the criticism." Spelling has also been the subject of plastic surgery rumors since she was a teenager, and she has been honest about the work that she has had done. "I literally had my nose done and my boobs done, and that's it," she told People in 2019. "I'm constantly reading that I've done more."
Being an open book helped Spelling build a successful career in reality TV, but some fans think that the "Tori & Dean: Home Sweet Hollywood" star is starting to look a little too much like another reality personality.
Tori Spelling transforms into a Kardashian doppelganger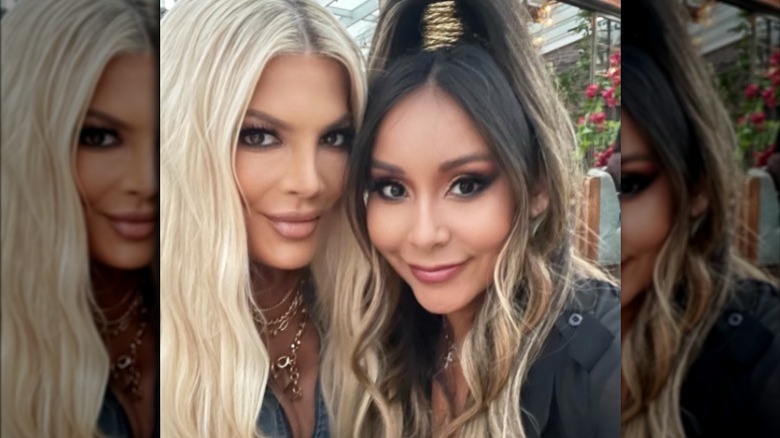 When Tori Spelling and hairstylist Laura Rugetti stepped out together on August 2, the two women found themselves accidentally twinning in identical denim jumpsuits. However, what fans could not stop talking about was how much Spelling resembled Khloé Kardashian — and Twitter had the jokes. "BREAKING: Tristan Thompson leaves Khloe Kardashian for Khloe Spelling," read one tweet. This reminds us that Khloé and Spelling have something in common besides their reality careers and looks: unfaithful partners. "Tori Spelling is trying to single white female Khloe Kardashian," another person wrote — and now we can't wait to see this Lifetime original movie.
Some comments were actually pretty kind. "'Tori Spelling stole Khloe Kardashian's whole look' and she looked good while doing so too," one message read. Spelling herself has revealed that she has Khloé to thank for making her look great below the waist. In 2020, she posed in a pair of jeans from Khloé's Good American brand. "The fit is so comfy and soft, & sucks me in in all the right places," she gushed on Instagram.
Okay, so Spelling's denim post was sponsored, but we still love seeing the women of reality TV supporting each other. And we are happy that Khloé's new celebrity twin has found her "twin flame" in her "Messyness" co-star Nicole "Snooki" Polizzi. "Love the way we empower each other to be our authentic selves," Spelling captioned the Instagram pic above. So sweet!
Source: Read Full Article